Universal ASIO Driver For WDM Audio
ASIO drivers are a fine alternative to native Windows audio I/O drivers for many machines. Since the release of the freeware ASIO4ALL driver pack, improved performance and reduced latency are now in reach of even modest host CPUs.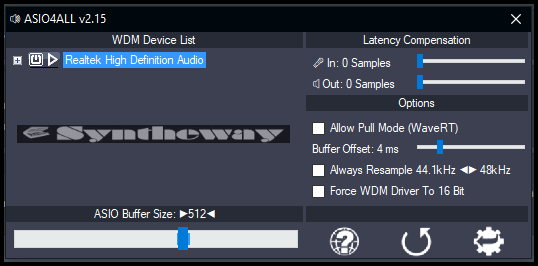 ASIO4ALL is a user mode component that is neither running nor even being loaded unless you start an ASIO host application. It does not overwrite/replace anything in your system except previous versions of itself. The worst thing that could possibly happen is that it crashes, in which case you simply uninstall and forget about it.
Combined 32/64 bit version, supports Win 98SE/ME/2k/XP/MCE/2003/XP64 and Vista/Windows 7/Windows 8.x/Windows 10 x86/x64
Minor update. Now Windows 10 is officially supported, even though it has been working all along.
Executable Installer: ASIO4ALL_2_13_English.exe
Files Zipped: ASIO4ALL_2_13_English.zip
About EXE format and .ZIP format: Simply stated, an .EXE file is a program that Windows can execute. A .ZIP file is a compressed file containing separated files. Windows cannot automatically install directly from a .ZIP file, you should place them manually.
Changes since version 2.13:
Support multiple sample rates concurrently - for as long as they are physically derived from a common master clock, are integer multiples of each other (except 44.1/48kHz special case), etc...
Support a number of sample rates on the ASIO side that the audio device does not physically support. Basically, this means an extension to the on-the-fly rate conversion capabilities.
Fix a regression introduced in 2.13 related to input device aggregation
Minor stuff, as usual...
In order to successfully run ASIO4ALL, you need:
A WDM-compatible operating system, such as Win98SE/ME/2k/XP/2003/XP64 or Windows Vista x86/x64.

A WDM-driver for your audio hardware. (Under Win2k/XP/Vista... this is implicit, not so under Win98SE/WinME.)

A couple minutes of your time and a little bit of luck.
What ASIO4ALL will NOT do:
Replace your existing sound card drivers or mess with them in any way.

Install any kernel mode components that could potentially affect the stability of your system.

"Overclock", or otherwise operate your audio hardware in ways that could potentially be harmful and/or void your warranty, except, of course, in cases where the manufacturer of your hardware has specifically stated that the use of ASIO4ALL would void your warranty indeed.
ASIO4ALL is free for the end user. Commercial exploitation (resale/bundling...), however, is restricted. The most recent version is 2.13, which is currently available for download
Download ASIO4ALL 2.13 Beta1:
Executable Installer: ASIO4ALL_2_11_Beta1_English.exe
Files Zipped: ASIO4ALL_2_11_Beta1_English.zip
Topics That May Interest You:
ASIO Driver on REAPER - ASIO (Audio Stream Input/Output)

VST is a trademark of Steinberg Soft- und Hardware GmbH
ASIO is a trademark and software of Steinberg Media Technologies GmbH.
---