Syntheway Percussion Kit NKI Sample Library
for Native Instruments Kontakt / Ableton Sampler
(Windows / Mac OS X)

Percussion Kit NKI Sample Library is a collection of percussion instruments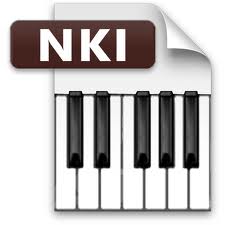 designed for creating Orchestral Percussion, Auxiliary Percussion, Mallet Percussion, Latin Percussion, Indian Percussion and African Percussion. Made specially for Native Instruments Kontakt users of Full version v2.0 or above on Windows and Mac OS X (Free Kontakt Player only will load this Library for 15 minutes in demo mode). Also is compatible with Ableton Sampler (Live Suite only, not Intro or Standard) on Windows and Mac OS X.

It has been meticulously tuned and adjusted and particular care has been taken in the reproduction of the original realism of Percussion Kit.

For existing registered users of any Syntheway Percussion Kit format, you can order

using a special Crossgrade order page located here.
---
The full Percussion Kit formatted version contains the following 18 NKI samples with their respective WAV files: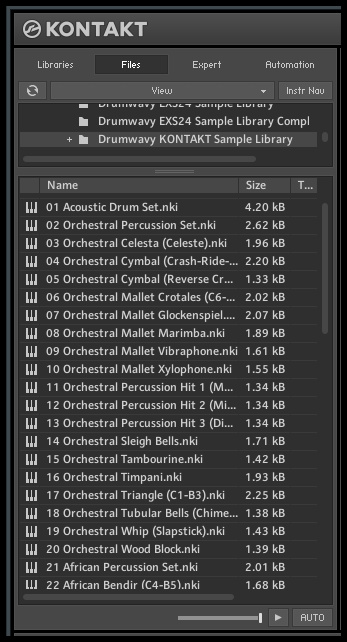 This Product does not include a "Kontakt" player.

A full version of Native Instruments Kontakt 2.0 or above is required for unlimited functionality.

Please be aware that the free Kontakt Player can only load this instrument in demo mode for 15 minutes.
Full Percussion Kit Instrument Details:
01) Percussion Kit Orchestral (Instrument name: Percussion Kit)
> C1.....C#1 - Snare Roll
> D#1.....E1 - Triple Roll
> F1.......B1 - Bass Drum
> C#3....C4 - Gong (Tam-Tam)
> C#4..F#4 - Suspended Cymbal
> G4....F#5 - Temple Block



02) Timpani II (Extended)
B) Auxiliary Percussion (Also known as battery percussion or accessory percussion)
C) Mallet Percussion (Also known as keyboard percussion)
15) Timbale (Paila Criolla)
E) African Percussion
18) African Percussion Kit (Full range)

F) Indian Percussion

19) Khanjira (Kanjira, Ganjira)
20) Tabla
21) Naqqara (Nagara)
22) Pakhavaj (Pakhawaja, Mridang)
23) Dukki Tarang
24) Ghatam (Ghatah)
25) Udukai (Uduku)
26) Morsing (Mukharshank, Mukharshanku, Mourching, Morching or Morchang)
27) Khol (Mrdanga, Mridong, Mridanga). Not to be confused with Mridangam.
28) Dholak


Kontakt is a trademark of Native Instruments GmbH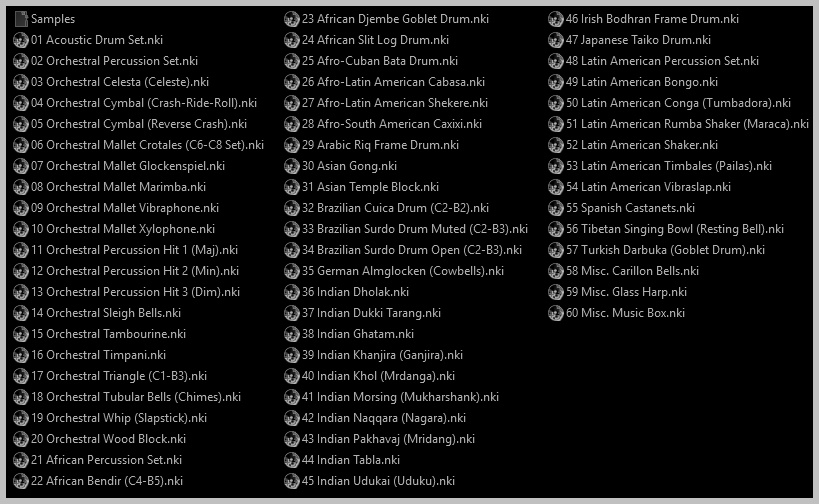 ---

Buy Percussion Kit NKI for Kontakt (Mac) online through PayPal

Secure PayPal Payment Services
All payments are handled securely online through PayPal. You'll be protected with PayPal's Buyer Protection so you know your order will be safe and secure.

Please check to make sure you are using a valid PayPal email address before ordering, because after your purchase and usually in less than 24 hours, we will send to your assigned email address a link in order to download the registered version of your selected software and a password to unlock the file.

To Buy, click "Add to Cart" button:
This Product does not include a "Kontakt" player.

A full version of Native Instruments Kontakt 2.0 or above is required for unlimited functionality.

Please be aware that the free Kontakt Player can only load this instrument in demo mode for 15 minutes.
---
Percussion Kit for Mac OS X: Has been adapted as Sampler with internal

Sample Library made specially for Mac users in order to use it as .component (Audio Unit) and / or .vst format (Cubase for Mac) (Compiled in Universal Binary format, so they are compatible and runs natively on Intel-manufactured IA-32 or Intel 64-based Macintosh computers. Mac OS X 10.6 or later).
Percussion Kit also is available as EXS24 mkII is a Sample Library
version, made specially for Mac users in order to use it on Logic EXS24 and EXSP24 Samplers. If you use Logic 5.5 or above, your EXS is automatically changed to the EXS mk II.
---
Loading and Playing Instruments
KONTAKT offers you a number of different tools that let you keep track of your installed sampling libraries and their contents. Ultimately, they all have the same purpose: to let you locate and use any item you're looking for as quickly as possible.
The Files tab of the Browser is a tree-based file system navigator that you can use to traverse the directory structure of your system volumes, browse the contents of any directory,
quickly listen to samples, and select KONTAKT items for loading.

The Libraries tab offers a more streamlined and intuitive way of accessing commercial libraries in KONTAKT format.

The KONTAKT Database is a very powerful tool for managing large collections of Instruments, Samples, Multis and Banks in a non-linear fashion. It allows you to tag your items with freely definable attributes and rapidly filter your whole collection by means of keywords and attributes.

The load… command, which you can find in the Files Menu of the Main Control panel, will open a traditional file selector dialog that you should find familiar from other applications:
load… command of the Files menu.We'll limit the scope of this section to the second option: The Libraries tabs of the Browser. In order to find out more about the other tools mentioned, refer to the KONTAKT 4 Reference Manual.
Loading an Instrument Using the Libraries Tab
Let's start by loading an Instrument! In this example we will use an Instrument from the Factory Selection Library. The following description applies to all libraries in a very similar manner, so you can use another library if desired.
Make sure the Browser is visible on the left side of the main window. If it's not, click on the button labeled Browse in the Main Control panel:Toggle the visibility of the Browser with the Browse button in the Main Control panel.

The Library Browser provides access to all KONTAKT PLAYER libraries installed
on your computer. To show the Library Browser, click the Libraries tab.
KONTAKT PLAYER now displays all libraries as "boxes" in the Library Browser:
Two Library Boxes in KONTAKT PLAYER's Library Browser
To load an Instrument:
-> Click on the button labeled Browse at the bottom of the library's box. The library's content will unfold and show all Instruments or sub-folders contained in the library: Click the Browse button to access the Instruments and sub-folders your library contains.The Factory Selection library contains numerous sub-folders, which are marked with a folder icon next to their name. They can be opened by double-clicking on them.
-> To get back to the parent folder, click on the first entry of the list, which is marked with an arrow:
Double-click the Band entry.

Once you've found an Instrument (whose filename will end with .nki) that you'd like to load, either double-click on its name or click and drag it into the Rack.
An Instrument Header with that Instrument's name and some controls will appear in the Rack, indicating that the Instrument has been successfully loaded and is ready for playing.
To load a selection of Instruments at once, press [Shift]+click multiple nki files and drag them to the Rack.
If a dialog titled "Samples Missing" appears when you try to load the Instrument, it means that KONTAKT cannot find some or all of that Instrument's Samples for some reason. In this case, either click on Abort Loading and retry the process with a different Instrument, or read the section about this dialog in the KONTAKT 4 Reference Manual to find out how to solve the problem.
Playing the Instrument
Once KONTAKT has successfully loaded the Instrument, it appears as a horizontal Instrument Header within the Rack, which indicates that it's ready for playing. If you have a master keyboard connected to your computer, play a few keys now.
In case you're using KONTAKT as a plug-in within your sequencer, you may need to put the respective instrument track into "record" or "monitor" mode first. Provided that you're playing in the correct key range of your Instrument, you should hear its sound now.
You also might like
Syntheway Sample Libraries for Native Instruments Kontakt (Mac OS X - Windows)

Custom Search
Mac OS X is a trademark of Apple Inc.
Audio Units™ is a trademark of Apple Inc.
VST is a trademark of Steinberg Soft- und Hardware GmbH
Kontakt™ is a trademark of Native Instruments GmbH
Mac™ is a trademark of Apple Inc., registered in the U.S. and other countries.
EXS24™ and EXSP24™ is a trademark of Apple Inc., registered in the U.S. and other countries
---