Syntheway Strings VSTi
Ensemble Strings: Violin, Viola, Cello & Double Bass
---
Overview
Syntheway Strings is a virtual ensemble of strings consisting of a section conformed by violin, viola, cello and double bass. Includes sampled articulations like staccato, marcato and legato as well as bowing techniques such as pizzicato and tremolo, up to synthesized and hybrid strings. Available in VST 32 bit and 64 bit versions.

Strings Mode Selector:


Full Strings
Octaves Strings
Dark Strings
Marcato Strings
Staccato Strings
Marcato Octaves
Synth Strings 1
Synth Strings 2
Hybrid Strings
Pizzicato Strings
Tremolo Strings
All samples have been hand edited with painstaking attention to sonic fidelity, usability and noise levels. Full length sustain samples, no loops (natural decay), stored in 16 bits and 44.100 KHz, providing superb detail for the musician.

Includes 48 presets.
Multiple-Mode Filter. Includes LP (Low pass), BP (Band pass), HP (High pass), notch, peak, low pass and high pass shelving filter with adjustable cutoff and bandwidth. The values are automatically computed when you select any of the filter types.

ADSR envelope generator. Attack, Sustain, Decay and Release parameters and several modulation targets.

Ensemble of strings consisting of a section conformed by violin, viola, cello and double bass.

Affordable price and user-friendly attitude are sure to attract many musicians.

Authentic sound based on an intelligent VSTi engine and Sample Playback, which provides virtually unlimited dynamic expression for your performances.

Glide control: affects pitch transitions. When turned to the far left, there are no pitch transitions - new notes immediately play at their "correct" pitch. If turned to the right, the glide time increases - new notes are triggered at the pitch of the previous note, and then gradually glide to the pitch of the played note, quickly or slowly, depending on the setting of this knob.

Free variation of acoustic ambience thanks to complete separation of strings and room. Small rooms can be modeled just as accurately as larger spaces. Customizable with user controls for: size room, width room, damping factor & mix, used to create psycho-acoustic models in the DSP environment, without having to load up any other plug-ins.

MIDI Automation: Added complete MIDI CC#. The following MIDI Continuous Controllers (MIDI CC) messages are recognized and affect the described parameters below.



Before you install VST Instruments & Effects, please make sure your computer fulfills the following requirements:

Windows Operating System: Native dll file for Windows Vista, Windows 7, Windows 8, Windows 8.1, Windows 10 / x86 and x64 architecture (32-bit and 64-bit platforms).

Apple macOS: Audio Units and VST Plugins or Sample Libraries

Linux Operating System: with the following requirements (Special Thanks to Paul Davis).

500 MHz Processor (Pentium®, Celeron® AMD® or equivalent) minimum.

RAM: 512 MB or higher recommended.

VST compatible host / Digital Audio Workstation DAW/ MIDI Sequencer: This VST software can be "plugged in" to any host application that supports VST Technology like: Image-Line FL Studio, Steinberg Cubase Pro, Artist and Elements, Cakewalk by BandLab, Ableton Live, Cockos REAPER, PreSonus Studio One, Acoustica Mixcraft, MAGIX Acid Pro, MakeMusic Finale, Avid Sibelius, Mackie Tracktion, AudioMulch, Steinberg Nuendo, Magix Samplitude, Magix Music Maker, Cantabile (Lite, Solo, Performer), n-Track Studio, VSTHost, DarkWave Studio, Propellerhead Reason, SAVIHost, Making Waves and much more ...

MIDI Controller Device: A MIDI Controller is required to play this VST instrument. The most common type of device in this class is the keyboard controller. After launching the Digital Audio Workstation or MIDI host application be sure to select the appropriate MIDI device before attempting to play your MIDI controller.

An ASIO® soundcard is recommended for low latency real-time play.

Please test extensively the demo version of your selected product (s) in your host to make sure there are no misbehaviors before purchasing.
Limitations of the Unregistered/Demo Version:
Same sound quality than the full version. It generates a short beep in all output channels every 10 seconds. Be aware that certain sounds may not be available.

The full version is available to purchase, as downloadable software, the price is US$35, and you can download the full version as soon as your payment is received.
Marcato: Indicates a short note, long chord, or medium passage to be played louder or more forcefully than surrounding music.
Staccato: Signifies a note of shortened duration.
Legato: Indicates musical notes are to be played or sung smoothly and connected.
Tremolo: Consists of moving the bow back and forth in very short strokes extremely rapidly, not in measured rhythm.
Pizzicato: On bowed string instruments is a method of playing by plucking the strings with the fingers, rather than using the bow. This produces a very different sound from bowing, short and percussive rather than sustained.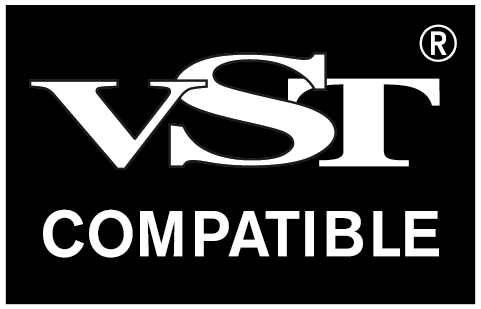 VST is a trademark of Steinberg Soft- und Hardware GmbH
---