| | | |
| --- | --- | --- |
| | | |
| | | |

Zephyrus VST Instrument
Virtual Hybrid Synthesizer
The Fusion of Synthesis, Sampling and Effects...
---
Overview
Zephyrus is a hybrid synthesizer that combines an analog synthesis engine and SoundFont oscillator to produce lead and bass synth as well as complex pads and background sounds. Available only in VST 32 bit. For Windows and Mac 64 bit see here.

Features
SoundFont Oscillator: The SFO Uses the raw samples in a soundfont file (*.SF2) as waveforms. Samples can be arranged into Banks, Patches, Key and Velocity zones.


2 Digitally Controlled Oscillator - DCO - with 3 selectable waveforms (Saw, Triangle, Pulse) have knobs to control the octave (4' 8' 16') , and interval.


2 Digitally Controlled Filter - DCF - A) with control over cutoff, contour amount, FM mod and emphasis. B) with control over ADSR envelope generator (Attack, Decay, Sustain, Release).


Mixer, controlling Oscillators A & B, master volume, Filter mod and Tracking rate.


LFO (Low Frequency Oscillator) with 2 selectable waveforms (Triangle & Pulse)


Loudness Contour with control over ADSR (Attack, Decay, Sustain, Release).


Distortion Unit (Waveshaper): A wave distortion effect which maps input to output values using flexible spline-based graph. Distorts the input depending on a transfer function you draw by dragging the control points with your mouse.


Portamento (Glide) Control: affects pitch transitions. A gliding effect that allows a sound to change pitch at a gradual rate, rather than abruptly, when a new key is pressed or MIDI note sent. When turned to the far left, there are no pitch transitions - new notes immediately play at their "correct" pitch. If turned to the right, the glide time increases - new notes are triggered at the pitch of the previous note, and then gradually glide to the pitch of the played note, quickly or slowly, depending on the setting of this knob.


Delay Effect Built-in: with Modulation (Varies the delay time dynamically- 0 to 10V ) and Amount of Feedback controls.


On-screen MIDI keyboard that can be played with the mouse, or keyboard (Q is Middle-C, Z two Octaves lower) The 'T' on the left of the keyboard sets Toggle Mode where each key stays held until you click it a second time.


76 internal presets (Pre-programmed sounds).


Possibility of turn the Synth into Mono Mode and Retrigger switch.


Hint Property: Tool tip when the mouse is over a control. You can mouse over any of the controls anywhere in Zephyrus and this will display a short description of what that control does.


One-panel Graphical User Interface


FULL MIDI Automation: Complete MIDI Continuous Controller (Control of all parameters for use with external hardware control).



Before you install VST Instruments & Effects, please make sure your computer fulfills the following requirements:
Windows Operating System: Native dll file for Windows Vista, Windows 7, Windows 8, Windows 8.1, Windows 10 / x86 architecture (32-bit platform). For x64 (64-bit platform) test the demo plug-in with your host internal bit bridge as in Cubase up to v8.5 (VST Bridge), FL Studio (Bridged mode), Cakewalk SONAR (BitBridge), Cockos REAPER (Bridging), Acoustica Mixcraft (full 32/64-bit compatibility), Bitwig Studio (Internal Bridge) or via external jBridge application for Ableton Live, PreSonus Studio One, Cubase 9, etc.

Intel macOS: Via free Wine based host called SM Pro Audio VFX Software as standalone program or by routing the audio signals to your favorite sequencer (e.g. GarageBand, Logic Pro) via Cycling74 SoundFlower and IAC bus

Linux Operating System: with the following requirements (Special Thanks to Paul Davis).

500 MHz Processor (Pentium®, Celeron® AMD® or equivalent) minimum.

RAM: 512 MB or higher recommended.

VST compatible host / Digital Audio Workstation DAW/ MIDI Sequencer: This VST software can be "plugged in" to any host application that supports VST Technology like: Image-Line FL Studio, Steinberg Cubase Pro, Artist and Elements, Cakewalk by BandLab, Ableton Live, Cockos REAPER, PreSonus Studio One, Acoustica Mixcraft, MAGIX Acid Pro, MakeMusic Finale, Avid Sibelius, Mackie Tracktion, Steinberg Nuendo, Magix Samplitude, Magix Music Maker, Cantabile (Lite, Solo, Performer), n-Track Studio, VSTHost, DarkWave Studio, Bitwig, SAVIHost and much more ...

MIDI Controller Device: A MIDI Controller is required to play this VST instrument. The most common type of device in this class is the keyboard controller. After launching the Digital Audio Workstation or MIDI host application be sure to select the appropriate MIDI device before attempting to play your MIDI controller.

An ASIO® soundcard is recommended for low latency real-time play.

Please test extensively the demo version of your selected product (s) in your host to make sure there are no misbehaviors before purchasing.
Limitations of the Unregistered/Demo Version:
Same sound quality than the full version. It generates a short beep in all output channels every 10 seconds. Be aware that certain sounds may not be available.

The full version is available to purchase, as downloadable software, the price is US$32, and you can download the full version as soon as your payment is received.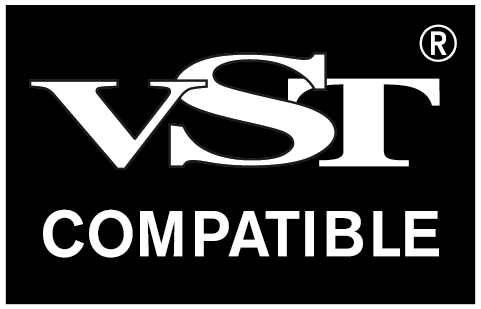 VST is a trademark of Steinberg Soft- und Hardware GmbH
---