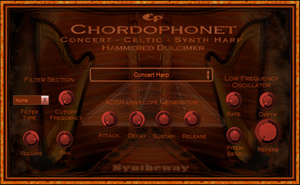 Chordophonet Virtual Harp & Hammered Dulcimer
Virtual Harp and Hammered Dulcimer sample based instrument, featuring Celtic and Concert Harps, Pre-recorded Harp Glissando and Upward-Downward Harp Glissando, and Hammered Dulcimer modes...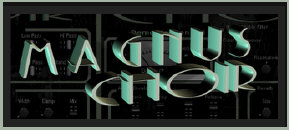 Magnus Choir VSTi version 1.6
Use it as a plug-in within your favorite DAW or music sequencer. Virtual Choir in classic SATB structure: female sopranos and altos / male tenors and basses. Synthetic choirs / Fx / voices also are available...

This year we will celebrating our 10th anniversary, as we continue our commitment to provide software solutions for musicians. Thanks for all your support!
You can connect with us on Facebook, Twitter, YouTube, MySpace, SoundCloud, Vimeo, Dailymotion, Tumblr, StumbleUpon, Google+, Flickr, Twitvid, Telly, Veoh, Photobucket, Pinterest, FriendFeed, Metacafe, Quora, Lacartes, Plurk, Diigo, Mixcrate, Ustream, TagTélé, Beat100, Ipadio, Slideshare, PDFCast, Keek, Chirbit, Huffduffer, Big Contact, LinkedIn, Mixcloud, Tagged, Fandalism, Deezer, Coverium, Vube, Chordify, Shuffler, Wavo, AudioBoo and a bunch of other networking sites! We hope you enjoy our software, videos and music demos!
---

VST Plug-in Interface Technology by Steinberg Media Technologies GmbH. VST is a trademark of Steinberg Soft- und Hardware GmbH. All other trademarks and trade names are the properties of their respective owners, and do not imply owner's endorsement of this product, or guarantee full compliance with owner's standards.