VSTAU Manager (VST to AU Adapter)
VSTAU Manager is an free Audio Unit adapter that allows VST plug-ins to be used in AU hosts
---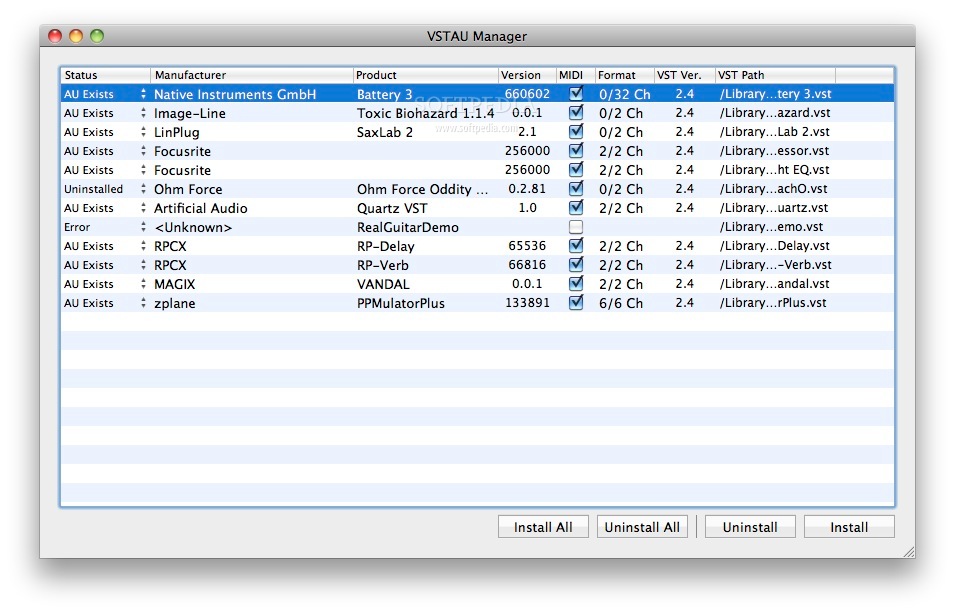 The image below has been reduced in size. Click on it to see the full version.

See more VSTAU Manager GUI screenshots
---
Download VSTAU Manager v0.2, RC2
...You Might Also Like
Audio Unit (AU): AU is the plug-in format developed by Apple to coincide with their new audio and MIDI technologies in OS X. Certain programs like Logic support Audio units exclusively, while other programs like Digital Performer 4 support their own MAS format as well as Audio Units. Audio Units are handled at the level of the OS X operating system itself and for programmers they can have a certain advantages in that two separate engines exist for the GUI of the plug-in as well as the sound engine itself, allowing for a more advance user interface design.
---
Mac Topics That May Interest You:
Magnus Choir Audio Unit (AU .component) + VST for Mac OS X Magnus Choir for Mac OS X
Magnus Choir NKI Sample Library for NI Kontakt Magnus Choir Apple Logic EXS24 Samples
Syntheway NKI Sample Libraries for Native Instruments Kontakt (Windows / Apple Mac OS X)
Syntheway EXS24 MkII Sample Libraries for Apple Logic (EXS24 EXSP24 Samplers Mac OS X)
Syntheway Sampler & Libraries: Audio Unit (AU .component) + VST (.vst) for Mac OS X
VST & Audio Units Plug-ins in Mac OS X SM Pro Audio VFX Software for Intel Mac OS X
How to setup Garage Band, Sound-flower, IAC, VFX Apple's Boot Camp
SoundFlower Configuration GarageBand Aggregate Device
IAC (Inter-Application Communication) Bus Audacity VST Enabler
WACVST (Windows-Mac VST) VSTAU Manager (VST to AU Adapter)
How To Use Soundflower How to capture audio with Soundflower
Custom Search

VST is a trademark of Steinberg Soft- und Hardware GmbH
---