Mixcraft is designed to work with virtual instruments and synthesizers.
---
How To Select A Virtual Instrument
Acoustica Mixcraft: Inserting New Track (Virtual Instrument=VSTi)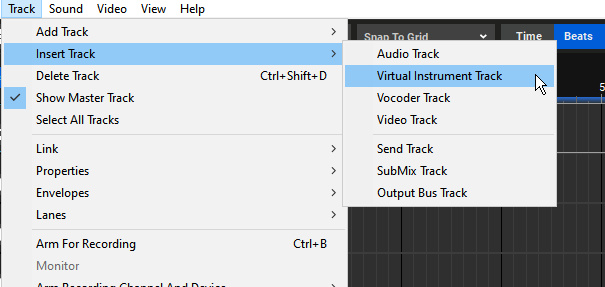 (Click to enlarge image)
To select a virtual instrument, simply create a Virtual Instrument Track by clicking Track, followed by clicking Insert Track, followed by clicking Virtual Instrument Track.
---
Acoustica Mixcraft: Loading Magnus Choir VSTi software
(Click to enlarge image)
This brings up the instrument dialog: Select a category and a preset. Close the window by clicking the [x] on the top right corner, if you'd like. Make sure that the track is selected and then go to your MIDI keyboard and start playing!
---
Acoustica Mixcraft: Editing Magnus Choir VSTi GUI
(Click to enlarge image)
When you click on a virtual instrument, the window will expand and you will see the following: Click in Edit button to get Magnus Choir interface.
---
Acoustica Mixcraft: Selecting Magnus Choir Presets
(Click to enlarge image)
Save Preset...
You can save your preset for later use in other projects, as well.
Type in a name and select a category. You may create a brand new category by typing it in, if you wish. Optionally, you can have the custom icon embedded in the preset file by clicking the Embed Icon checkbox. When are satisfied, click Save.
New Preset
Click this to create a blank preset. If you have made changes to this preset, Mixcraft will ask you if you want to save your changes.
Preset Files
Your preset files are located in your Mixcraft 4 folder under a sub-folder called InstPresets. Preset files have a .instrument extension and can be traded and sent between computers and users. (Please note that you will need the appropriate VSTi's and virtual synths installed so that they will work.)
---
Acoustica Mixcraft: Assigning Magnus Choir MIDI Channels
(Click to enlarge image)
Right click on Mixcraft keyboard icon in Instrument Track -> Change Instrument -> Magnus Choir details box -> "Edit" button to get the GUI Magnus Choir interface -> Go to "MIDI Channel" section (next to VU meter) and press the grey MIDI button until you reach the intended channel. You can select between 1-16 channels or simply ALL channels. Often useful to assign a certain MIDI channel when you import a .mid file type 1 made in other application, which has been assigned different MIDI channel for each MIDI instrument.
Note: Standard MIDI Files come in two basic varieties: a Type 1 file, and a Type 0 file (a Type 2 was also specified originally but never really caught on). In a Type 1 file individual parts are saved on different tracks within the sequence. In a Type 0 file everything is merged onto a single track.