ElectriKeys Electric Piano VSTi
Fender Rhodes, Wurlitzer, Hohner Clavinet D6, Yamaha CP70
---
Overview
ElectriKeys is an Electric Piano emulation based on vintage Fender Rhodes MK1™, Hohner Clavinet D6™, Wurlitzer™ and Yamaha™ CP-70 e-pianos. Available in VST 32 bit and 64 bit versions.

Features
Sound is generated via a hybrid method that combines synthesis and sampling techniques, to create the most realistic sounds of these vintage electric pianos.

EP Selector. One instrument offering the sound of four legendary e-pianos:

Fender Rhodes™ Electric Piano (Stage Piano Mark I)

Hohner Clavinet D6™

Wurlitzer™ Electric Piano

Yamaha™ CP-70 Electric Grand Piano (Brilliance: Mellow, Normal and Bright)

Tremolo Section: Recreates the classic effect (which was called vibrato on the real Rhodes™ front panel). Contains a LFO (Low Frequency Oscillator) with modulation depth, frequency and offset. The panning slider controls the output effect distribution between left and right speaker and to help create a broad spectrum of stereo tremolo effects.

5-Band Parametric Equalizer: EQ composed of five parametric filters with Frequency, Bandwidth and Gain knobs. Equalization allows you to lower or raise the volume of specific frequency ranges for bass and treble manipulation. Also contains global gain wheel to adjust the overall volume (Turn the wheel to right to boost a band, or to left to decrease its level).

Decay & Release Time: Decay sets the note decay while the key is pressed. Release sets the release (fade out) time after the key is released, offering unique tone to each player.

32 presets for Tremolo effects and Parametric EQ ready to play. Creating new sounds is as simple as combining these presets in different ways and tweaking any associated parameters from there as desired.

Signal's Harmonic Spectrum (Freq. analyzer)



Before you install VST Instruments & Effects, please make sure your computer fulfills the following requirements:

Windows Operating System: Native dll file for Windows Vista, Windows 7, Windows 8, Windows 8.1, Windows 10 / x86 and x64 architecture (32-bit and 64-bit platforms).

Apple macOS: Audio Units and VST Plugins or Sample Libraries

Linux Operating System: with the following requirements (Special Thanks to Paul Davis).

500 MHz Processor (Pentium®, Celeron® AMD® or equivalent) minimum.

RAM: 512 MB or higher recommended.

VST compatible host / Digital Audio Workstation DAW/ MIDI Sequencer: This VST software can be "plugged in" to any host application that supports VST Technology like: Image-Line FL Studio, Steinberg Cubase Pro, Artist and Elements, Cakewalk by BandLab, Ableton Live, Cockos REAPER, PreSonus Studio One, Acoustica Mixcraft, MAGIX Acid Pro, MakeMusic Finale, Avid Sibelius, Mackie Tracktion, Steinberg Nuendo, Magix Samplitude, Magix Music Maker, Cantabile (Lite, Solo, Performer), n-Track Studio, VSTHost, DarkWave Studio, Bitwig, SAVIHost and much more ...

MIDI Controller Device: A MIDI Controller is required to play this VST instrument. The most common type of device in this class is the keyboard controller. After launching the Digital Audio Workstation or MIDI host application be sure to select the appropriate MIDI device before attempting to play your MIDI controller.

An ASIO® soundcard is recommended for low latency real-time play.

Please test extensively the demo version of your selected product (s) in your host to make sure there are no misbehaviors before purchasing.
Limitations of the Unregistered/Demo Version:
Same sound quality than the full version. It generates a short beep in all output channels every 10 seconds. Be aware that certain sounds may not be available.

The full version is available to purchase, as downloadable software, the price is US$35, and you can download the full version as soon as your payment is received (normally the same day)
" E L E C T R I K E Y S " is based on 4 Vintage Electric Pianos
1) Fender Rhodes Mark I™ (1969-1975)
The Fender Rhod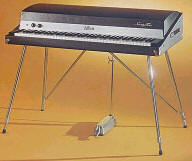 es product line evolved quickly as the 1970's began. The 73-key Electric Piano was renamed the Fender Rhodes Suitcase Piano in 1969, featuring a black harp cover and a stereo 80W amp, and by 1970 the Fender Rhodes Mark I Stage Piano was available. The Stage Piano was the piano top from the Suitcase model, modified for use with an external guitar or bass amplifier. The Stage model featured detachable legs (parts from a Fender pedal steel guitar), a sustain pedal and pushrod (part of a Rogers hi-hat stand), and a simplified front panel with only volume and bass EQ controls. Internally, the Stage Piano was nearly identical to the Suitcase model. Over the last few decades, the electric piano has played a central role in music of all types, from jazz/fusion and funk, to rock and dance. The Rhodes was used much in jazz-fusion throughout the 1970s. Chick Corea's album Light as a Feather and Miles Davis's In a Silent Way featured the Rhodes throughout the whole album. Joe Zawinul of Weather Report, Jan Hammer of the Mahavishnu Orchestra and Herbie Hancock also used the Rhodes.

Classic Rhodes™ Effects
The piano's clean tone is what you hear on many essential Fender Rhodes recordings, but definitely not all of them. The Rhodes sounds even better with the right amp and effects. The Suitcase Vibrato was the original Rhodes effect, built into all versions of the Suitcase piano (as well as Stage models with the Super Satellite & Janus I systems). The idea behind the Vibrato was to simulate a rotating speaker, although the actual sound was quite different. The first version of the Vibrato was in mono, a tremolo effect that varied the amplitude of the piano's output in a square-wave pattern. When the Suitcase amps went stereo in 1969, this pattern was translated into a panning effect. Front-panel controls were provided for Speed and Intensity.
---
2) Hohner Clavinet D6™ (Image Copyright by Electronic Edge Vintage Keys )

Musician and inventor, Ernst Zacharias, designed the first of these, the Cembalet, in the 1950's. This was intended to be a portable, amplifiable version of the Cembalo, or Harpsichord. This worked by plucking the end of a flat reed with the key, which was then picked up and amplified in much the same way as an electric guitar. A little later came the Pianet. Both the "CH" and "N" models once again used flat reeds, but employed a very different plucking/striking action. When a key was depressed it engaged a "sticky pad" with foam backing which actually stuck to the reed. When the key was released, the pad came unstuck causing the reed to vibrate which was then amplified. The Pianet model "T" came much later and utilized the suction of a soft rubber pad onto the reed. This was somewhat superior to the "N" and "CH" models, but still had several drawbacks. Although made very popular by bands such as the Zombies and Small Faces, there wasn't much dynamism available from the keyboard. As all the reeds were damped upon release, this negated the possibility of obtaining sustain via a foot pedal.
The D6 was later superseded by the model E6 and the Clavinet/Pianet Duo. These were basically the same, but more roadworthy and better protected against proximity hums and generally quieter than previous models. However, these models came just a bit too late on the scene in the age of electronics to be as successful as they deserved to be.
---
3) Wurlitzer™ Electric Piano
Inventor Benjamin Miessner had designed an amplified conventional upright piano in the 1930s, and Wurlitzer used his electrostatic pickup design, but replaced the strings with struck steel reeds. The instrument entered production in 1955 as the EP-112 and continued to be produced in various forms until about 1982 when production of the EP-200A ceased.



The Wurlitzer piano is usually a 64-note instrument whose keyboard range is from A an octave above the lowest note of a standard 88-note piano to the C an octave below the top note of an 88-note piano. Tone production in all models comprises a single steel reed for each key, activated by a miniature version of a conventional grand piano action and forming part of an electrostatic pickup system using a DC voltage of 170v. A mechanical sustain pedal similar to that of a conventional piano is fitted

Compared with its erstwhile rival, the (Fender) Rhodes electric piano, the Wurlitzer has a brighter, more hollow sound. When played gently the sound can be quite sweet and vibraphone-like, becoming more aggressive with harder playing. In a pop or rock band setting with guitar(s), bass and drums the Wurlitzer has a distinctive and clear sound where a Rhodes would tend to blend in. However it has also been used successfully in MOR ballads and even country music.
---
4) Yamaha CP70™ Electric Grand
The quest for a portable piano has been around since the invention of the Fender Rhodes and the Wurlitzer. Of course, neither of these actually sound like pianos... they have a pleasant sound that is 'piano-like' but in no way are they a substitute for the real thing.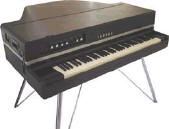 Several companies tried all sorts of things (including some fairly horrible electronic things) but it wasn't until Yamaha released their CP70 'Electric Grand Piano' in the mid-'70s that I had something approaching a 'real' piano that could be toured around and amplified easily without any difficult mic techniques.

There were three models in the product's lifetime... the original CP70 (73-note keyboard) which was superceded by the CP70B (with balanced outputs) and the CP80 (a full 88-note keyboard version).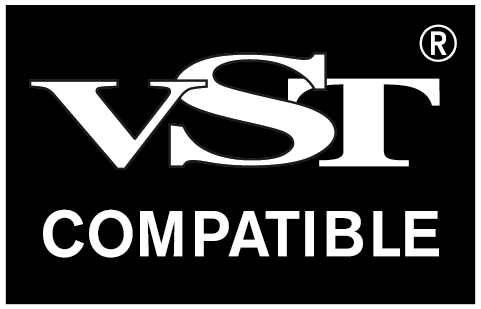 VST is a trademark of Steinberg Soft- und Hardware GmbH
The Rhodes name and logo are trademarks of Joseph A. Brandstetter.
The Fender name and logo are trademarks of Fender Musical Instruments.
Clavinet is a registered trademark of Hohner International.
Wurlitzer is a registered trademark of the Baldwin Piano Co.
Yamaha is a registered trademark of Yamaha Corporation.
These trademarks are not affiliated or associated with Syntheway and are mentioned only to describe the types of sounds reproduced by ElectriKeys Electric Piano.
---