Acoustic, Semi Acoustic and Electric Guitars
~ Five Guitars in One Software ~
Acoustic (Nylon, Six and Twelve Steel String) Semi Acoustic Hollow Body and Electric 'Clean' Guitars
Full Video with Audio Demos of all the Guitars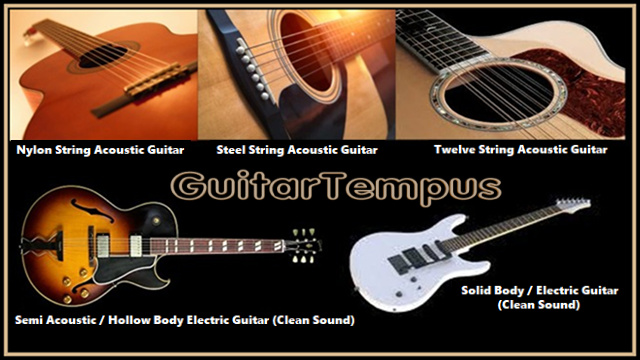 Description and details of sample-based instruments by GuitarTempus

1.- Nylon String Acoustic Guitar: The classical guitar (also known as concert guitar, classical acoustic, nylon-string guitar, or Spanish guitar) is the member of the guitar family used in classical music. It is an acoustical wooden guitar with strings made of nylon, rather than the metal strings used in acoustic and electric guitars. The traditional classical guitar has twelve frets clear of the body and is held on the left leg, so that the hand that plucks or strums the strings does so near the back of the soundhole (this is called the classical position).
2.- Steel String Acoustic Guitar: The steel-string acoustic guitar is a modern form of guitar that descends from the nylon-strung classical guitar, but is strung with steel strings for a brighter, louder sound. Like the classical guitar, it is often referred to simply as an acoustic guitar.
3.- Twelve String Acoustic Guitar: The twelve-string guitar is a steel-string guitar with twelve strings in six courses, which produces a richer, more ringing tone than a standard six-string guitar. Typically, the strings of the lower four courses are tuned in octaves, with those of the upper two courses tuned in unisons.
4.- Semi Acoustic (Hollow Body) Electric Guitar: A semi-acoustic guitar or hollow-body electric is a type of electric guitar that originates from the 1930s. It has both a sound box and one or more electric pickups. This is not the same as an acoustic-electric guitar, which is an acoustic guitar with the addition of pickups or other means of amplification, added by either the manufacturer or the player.
5.- Electric Guitar: A fretted stringed instrument with a neck and body that uses a pickup to convert the vibration of its strings into electrical signals. The vibration occurs when a guitarist strums, plucks, fingerpicks, or taps the strings. It is sensed by a pickup, most commonly by a magnetic pickup that uses the principle of direct electromagnetic induction. The signal generated by an electric guitar is too weak to drive a loudspeaker, so it is plugged into a guitar amplifier before being sent to a loudspeaker, which makes a sound loud enough to hear.
GuitarTempus features a Multimode IIR filter, ADSR, Glide and LFO to tailor your guitar sounds, offering a wide range of sounds.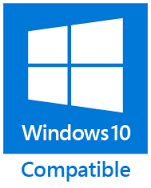 GuitarTempus is available for macOS / Mac OS X as in:

Misty (Erroll Garner)
Love Story (Francis Lai)
Oviblion (Astor Piazzolla)
Summer Tree (Paul Kucharski)
No One Ever Cared For Me Like Jesus (Charles Weigle)


Anji (David Davy Graham)
Just Blues (Dick Anderson)
Steel Guitar Rag (Leon McAuliffe)
Blues For Chessie (John Kwasnik)

Diary Of A Madman (Ozzy Osbourne)
Guardian Angels (John McLaughlin)
The Plough And The Stars (Larry Redican) Irish Reel


Give a Little Bit (Supertramp)
I Stay Away (Alice In Chains)
A Horse With No Name (America)
Wanted Dead or Alive (Bon Jovi)
Over the Hills and Far Away (Led Zeppelin)
More Than A Feeling (Boston) 6 & 12 Steel String + Semi Ac. Electric Guitar


Black Diamond (Kiss)
Paradise City (Guns N' Roses)
Barney's Blues (Barney Kessel)
Paint It Black (Rolling Stones)
Polka Dots And Moonbeams (Johnny Burke/James Van Heusen)
Sweet Home Alabama (Lynyrd Skynyrd) Semi Acoustic + Electric Guitar

18 And Life (Skid Row)

Alley Cat (Bent Fabric)
Still Loving You (Scorpions)
Contact Lost (Deep Purple)
Don't Cry (Guns N' Roses)
Is This Love (Whitesnake)
One Last Breath (Creed)
White Wedding (Billy Idol)

A Tout Le Monde (Megadeth)
Californication (Red Hot Chili Peppers)
Don't Fear The Reaper (Blue Oyster Cult)
Soldier Fortune (Deep Purple) Nylon String and Electric Guitar
Custom Search

VST is a trademark of Steinberg Soft- und Hardware GmbH.