GuitarTempus Virtual Guitar
Audio Unit and VST Plugins for Mac
---
GuitarTempus is a virtual guitar designed to emulate the acoustic (nylon, six and twelve steel string), semi acoustic (hollow body) and electric 'clean' guitars.
The Audio Unit Component and or VST audio plug-ins are compiled in Universal Binary format, so they are compatible and run natively on Intel-manufactured IA-32 (Intel Architecture, 32-bit) or Intel 64-based Macintosh computers.
Compatibility with Apple Mac OS X v10.6 "Snow Leopard", Mac OS X v10.7 "Lion", Mac OS X v10.8 "Mountain Lion", OS X v10.9 "Mavericks", OS X v10.10 "Yosemite", OS X v10.11 "El Capitan", macOS v10.12 "Sierra", macOS v10.13 "High Sierra".
These plug-ins that can be used to process audio by applications such as Logic Pro, GarageBand, Cubase, Ableton Live, REAPER, Studio One Professional, Ardour, MainStage and Digital Performer among others.
It has been meticulously tuned and adjusted and particular care has been taken in the reproduction of the original realism of GuitarTempus.
Features:
• Mode Selector to change between the following instruments:
| | |
| --- | --- |
| 1 | Nylon String Acoustic Guitar |
| 2 | Steel String Acoustic Guitar |
| 3 | Twelve String Acoustic Guitar |
| 4 | Semi Acoustic / Hollow Body Electric Guitar (Clean Sound) |
| 5 | Electric Guitar (Clean Sound) |
• ADSR envelope generator with Attack, Sustain, Decay and Release parameters:
- Attack determines the time it takes for the note to get to the maximum level.
- Decay determines the time it takes for the note to go from the maximum level to the sustain level (controlled by Sustain).
- Sustain determines level the sound is played at while the note is held (after the other envelope states, Attack and Decay, have been completed).
- Release determines the time it takes for the note to fall from the sustain level to zero (silence) level when it is released.
• Pitch Bend: The Pitch Bend knob directly changes the pitch of the selected instrument.
- Pitch Bend center position: is normal pitch.
- Pitch Bend down: Specifies the amount of pitch change that will occur when the pitch bend/modulation lever is moved to the left.
- Pitch Bend up: Specifies the amount of pitch change that will occur when the pitch bend/modulation lever is moved the right.
• Low-Frequency Oscillator Controls: These knobs apply LFO modulation to the selected instrument. Use the 'Rate' (Frequency) and 'Depth' (Amplitude) knobs to adjust the LFO effect as required. By using the LFO to modulate various aspects of the audio signal, you can apply effects such as vibrato or tremolo.
• Virtual Reverb Room built-in: free variation of acoustic ambience thanks to complete separation of instrument and room. Small rooms can be modeled as well as large spaces.
• Volume: Adjusts the volume of the instrument.
• Pan: Set the panning of the instrument. Adjusts the stereo pan position of the signal output, which determines how much of signal is sent to the left and right channels.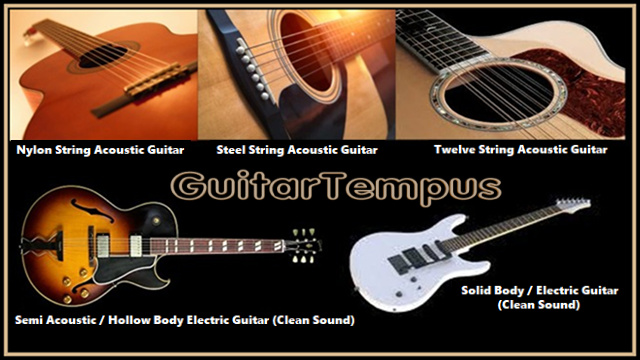 Misty (Erroll Garner)
Love Story (Francis Lai)
Oviblion (Astor Piazzolla)
Summer Tree (Paul Kucharski)
No One Ever Cared For Me Like Jesus (Charles Weigle)


Anji (David Davy Graham)
Just Blues (Dick Anderson)
Steel Guitar Rag (Leon McAuliffe)
Blues For Chessie (John Kwasnik)

Diary Of A Madman (Ozzy Osbourne)
Guardian Angels (John McLaughlin)
The Plough And The Stars (Larry Redican) Irish Reel


Give a Little Bit (Supertramp)
I Stay Away (Alice In Chains)
A Horse With No Name (America)
Wanted Dead or Alive (Bon Jovi)
Over the Hills and Far Away (Led Zeppelin)
More Than A Feeling (Boston) 6 & 12 Steel String + Semi Ac. Electric Guitar


Black Diamond (Kiss)
Paradise City (Guns N' Roses)
Barney's Blues (Barney Kessel)
Paint It Black (Rolling Stones)
Polka Dots And Moonbeams (Johnny Burke/James Van Heusen)
Sweet Home Alabama (Lynyrd Skynyrd) Semi Acoustic + Electric Guitar

18 And Life (Skid Row)

Alley Cat (Bent Fabric)
Still Loving You (Scorpions)
Contact Lost (Deep Purple)
Don't Cry (Guns N' Roses)
Is This Love (Whitesnake)
One Last Breath (Creed)
White Wedding (Billy Idol)

A Tout Le Monde (Megadeth)
Californication (Red Hot Chili Peppers)
Don't Fear The Reaper (Blue Oyster Cult)
Soldier Fortune (Deep Purple) Nylon String and Electric Guitar
---
For existing registered users of any Akkordica format, you can order

using a special Crossgrade order page located here.
---

Buy GuitarTempus Virtual Guitar Audio Unit and VST for macOS online through PayPal

Secure PayPal Payment Services
All payments are handled securely online through PayPal. You'll be protected with PayPal's Buyer Protection so you know your order will be safe and secure.

Please check to make sure you are using a valid PayPal email address before ordering, because after your purchase and usually in less than 24 hours, we will send to your assigned email address a link in order to download the registered version of your selected software in a DMG file (Apple Disk Image format, Volume Type: HFS+ Mac OS Extended).

Price: USD 36,90 via PayPal

To Buy, click "Add to Cart" button:
---
Audio Units and VST Installation on Mac
Audio Units™ is a trademark of Apple Inc.
VST™ is a trademark of Steinberg Soft- und Hardware GmbH
Mac®, macOS®, OS X® are a trademark of Apple Inc., registered in the U.S. and other countries.
---