Image-Line FL Studio 10
FL Studio is one of the world's most popular and exciting music production systems. Everything you need in one package to compose, arrange, record, edit, mix and master professional quality music.
What can FL Studio do?
Audio editing and manipulation including pitch correction, pitch shifting, harmonization, time-stretching, beat-detection & slicing, audio warping and standard audio manipulation (cut/paste etc). Automate most interface and all plugin parameters by recording, drawing, and using spline-based automation curves or automation generators with formula-based control of links. Be hosted in other DAWs as a VST or connected through ReWire. Live music performance including video effect visualization. Mix and remix audio, including application of real-time audio effects such as delay, reverb & filtering. Multi-track audio recording. Record & play MIDI input recording from keyboards, drum pads and controllers. Sequencing and arranging. Synthesizer & effect plugin hosting (VST 32 & 64 bit, DX and FL Native format)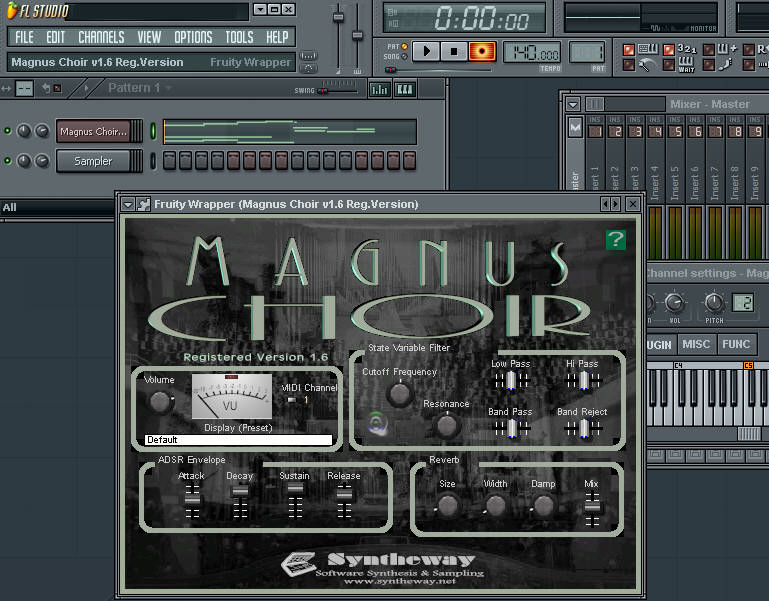 Lifetime FREE Updates
You only buy FL Studio once then all future program updates are FREE for LIFE!
This means that you're guaranteed to receive FL Studio 11 and all other future versions absolutely free. Now, why can't the other guys do that?
Even the demo rocks!
While we could try to describe the thousands of features in FL Studio and what it can do, the best way is to download the demo and experience it for yourself. The demo includes all of the program's features and most plugins (instruments & effects) fully working and ready for testing on your PC.
Save projects from the demo and reopen* them after you purchase FL Studio and any additional-purchase plugins the project uses.
Render project audio to WAV, MIDI, MP3 & OGG so you can produce gigabytes of songs, loops & beats with it, free.
The demo is the official installer and is unlocked to the level you purchase by installing a tiny 50kb FLRegkey.Reg file. It takes only seconds to download from your online account.
System requirements
2Ghz AMD or Intel Pentium 3 compatible CPU with full SSE1 support. The faster your CPU and more cores it has the more you will be able to do simultaneously. Download and test the demo!
Windows 7, Vista, XP & 2000 (32 & 64 Bit)
(or) Intel Mac with Boot Camp (running XP, Vista or Windows 7, 32 or 64 Bit)
1 Gb or more RAM recommended
1 Gb free disk space
Soundcard with DirectSound drivers. ASIO/ASIO2 compatible required for audio recording (FL Studio installs with generic ASIO4ALL drivers)
There's no need to guess ...
...If your system meets the minimum system requirements then your CPU speed and RAM are the factors that impose limits on the complexity of your projects.
Generally, the faster your CPU is the more instruments you will be able to play simultaneously and/or the more effects you will be able to use. The more RAM (memory) you have the larger and more samples you will be able to load and play back smoothly.
To find out how FL Studio behaves on your machine don't guess, please download the demo and try it out for yourself. See this page in the manual for tips on improving performance a few simple tweaks can go a long way.
---