Magnus Choir In Image-Line FL Studio
Firstly unzip the provided file and place the Magnus Choir.dll into VST plugins folder of FL Studio, and check out the following steps:
Start FL Studio.

In the Channels menu, select Add One. In the submenu that opens, select More...

You will see a window listing all instrument plugins available in FL Studio. At the bottom of the window, click the Refresh button and select Fast Scan.

The MAGNUS CHOIR plugin you have installed should appear in the plugin list in red color. If this does not happen, please make sure you have followed the previous steps properly.

Place a checkmark before the plugin name if you want it listed in your favorites and close the window.

Now the MAGNUS CHOIR plugin is installed and can be used as a standard FL Studio instrument. To add an instance of the plugin to the current project, open the Channels menu, select Add One and in the submenu that appears select the name of the plugin. An instance of the plugin appears in the Step Sequencer window.

MAGNUS CHOIR will appear in the host menu as "VST instrument". Now MAGNUS CHOIR is ready to play.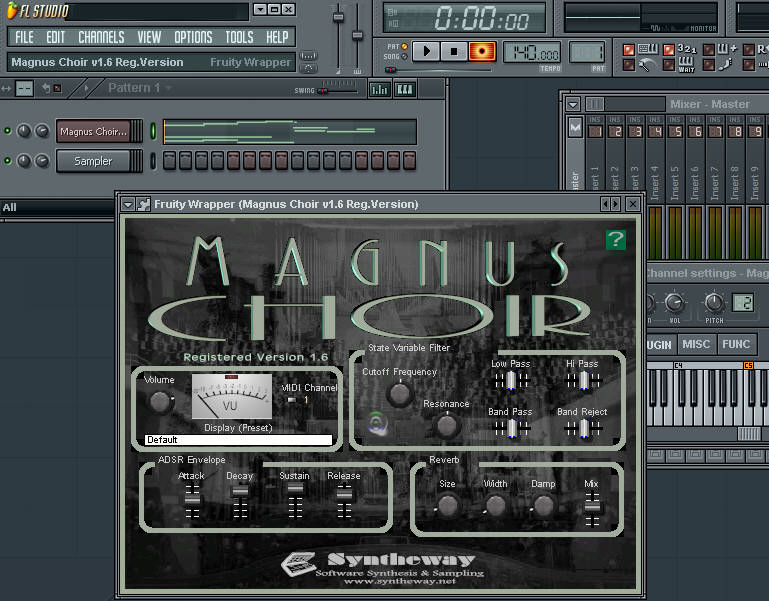 Watch Video demonstration Online
Related Topics:
FL_Studio: Hardware_MIDI_Controllers FL_Studio: System_Settings_MIDI
Magnus Choir In Image-Line FL Studio How to manage Magnus Choir presets in FL Studio
Custom Search

VST is a trademark of Steinberg Soft- und Hardware GmbH
FL Studio is a registered trademark of Image Line Software
---