Magnus Choir in Sony ACID Music Studio 8
---
VST instruments are added to your project as soft synth channel strips in the Mixing Console window. Routing a MIDI track to a soft synth channel strip will cause the track to be played through the VST instrument, and you can use the Soft Synth Properties dialog to choose presets and adjust instrument settings.
If a VST instrument supports multiple output ports, a soft synth bus control will be added to the Mixing Console window for each output. You can mute, solo, add effects, and adjust volume for each soft synth channel strip individually, but deleting any one of the soft synth channel strips will remove the all of the VST instrument's ports.
Starting Magnus Choir in ACID:
1.- ACID Music Studio VST Configuration: Scan your computer for plug-ins

Click to Enlarge Image

The Plug-In Manager Window Ctrl+Alt+1 View Menu
From the View menu, choose Plug-In Manager to toggle the display of the Plug-In Manager window.
This window organizes your DirectX and VST plug-ins (VST effects and instruments).
Note that Magnus Choir.dll file must be into your VST Plugins folder in order to be recognized by ACID: i.e. C:\Program Files\VSTPlugins
2.- Sony ACID Music Studio 8 scans and recognizes Magnus Choir in Startup
Scanning your computer for VST plug-ins is a two-stage process: first, you need to tell ACID where your plug-ins are installed, and then you can scan those folders for plug-ins.
3.- Insert Soft Synth from Sony ACID Music Studio 8 menu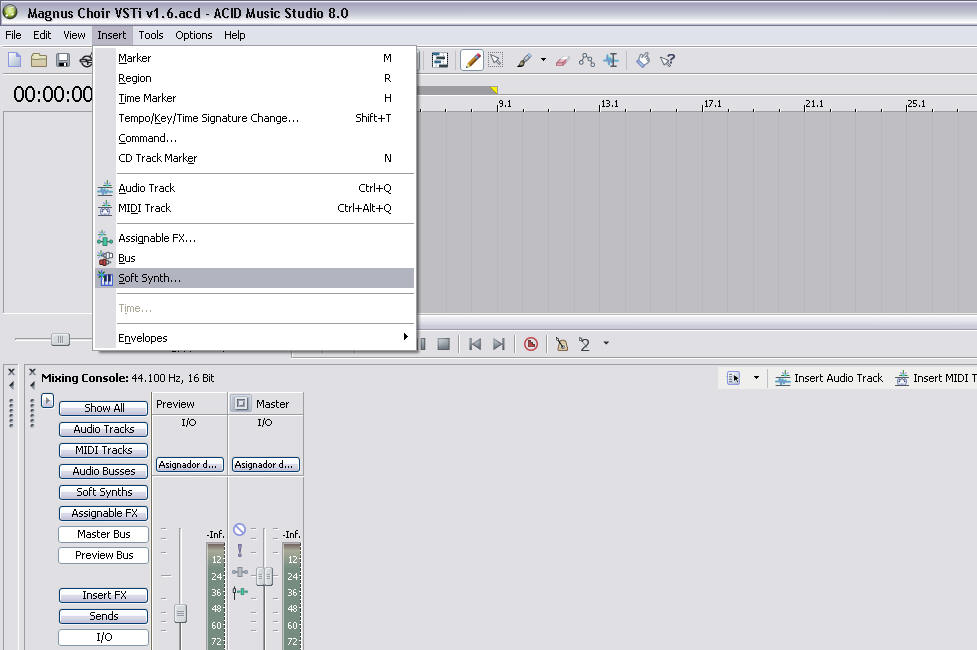 Click to Enlarge Image
From the Insert menu, choose Soft Synth, or click the Insert Soft Synth button in the Mixing Console window. The Soft Synth Chooser is displayed.
4.- Soft Synth Chooser (Sony ACID Music Studio 8)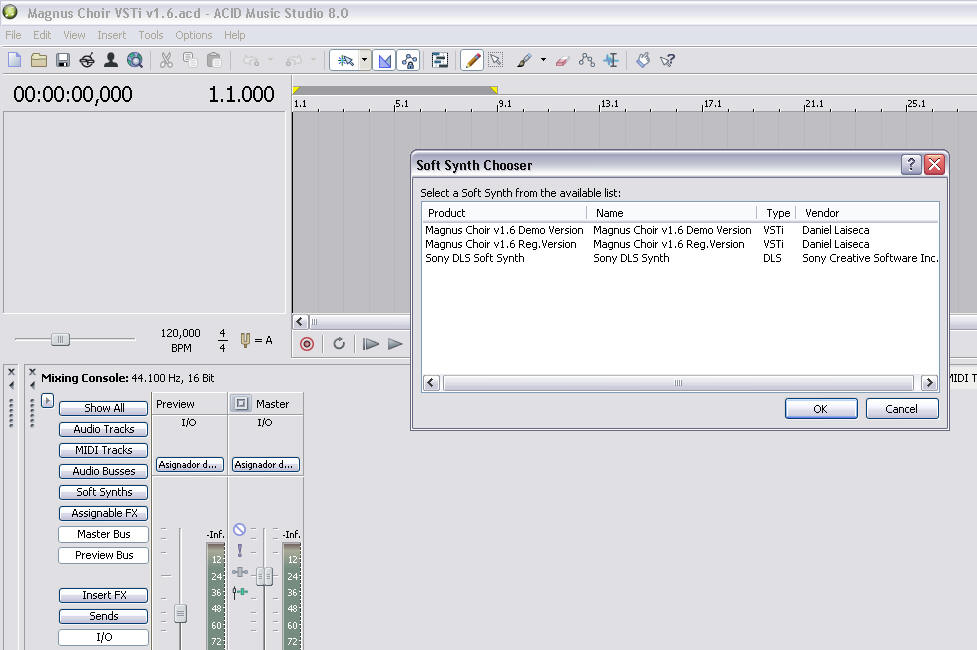 Click to Enlarge Image
5.- Magnus Choir GUI interface in Sony ACID Music Studio 8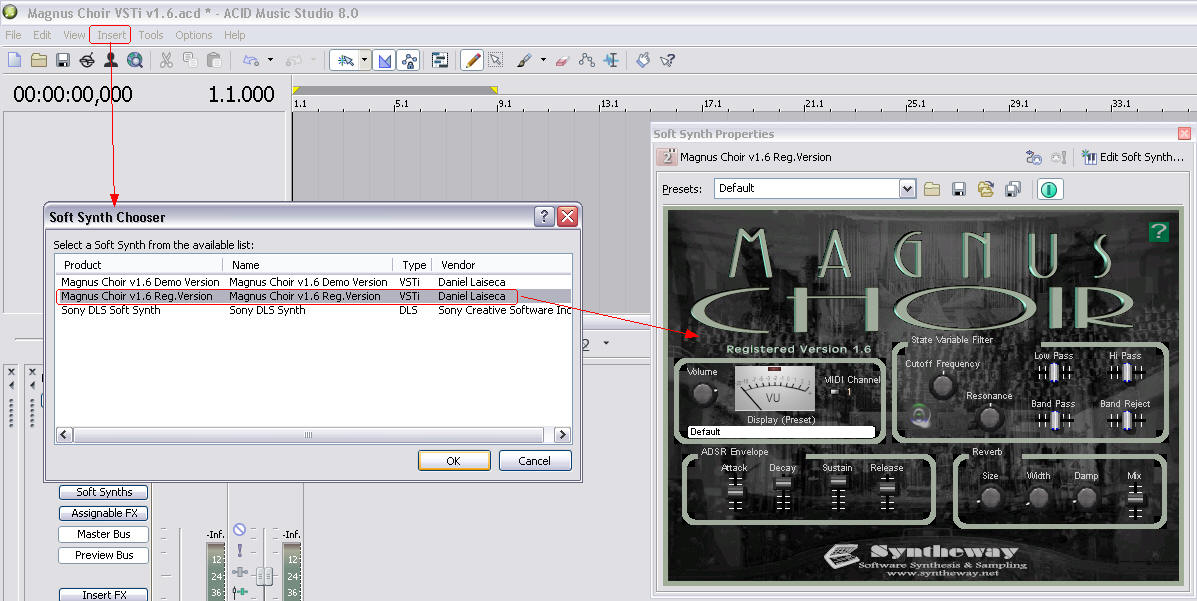 Click to Enlarge Image
6.- Inserting MIDI Track for Magnus Choir VSTi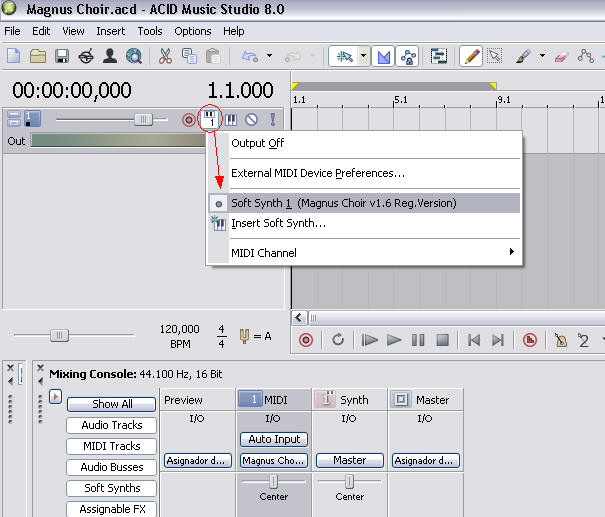 Click to Enlarge Image
7.- Magnus Choir Preset Manager in Sony ACID Music Studio 8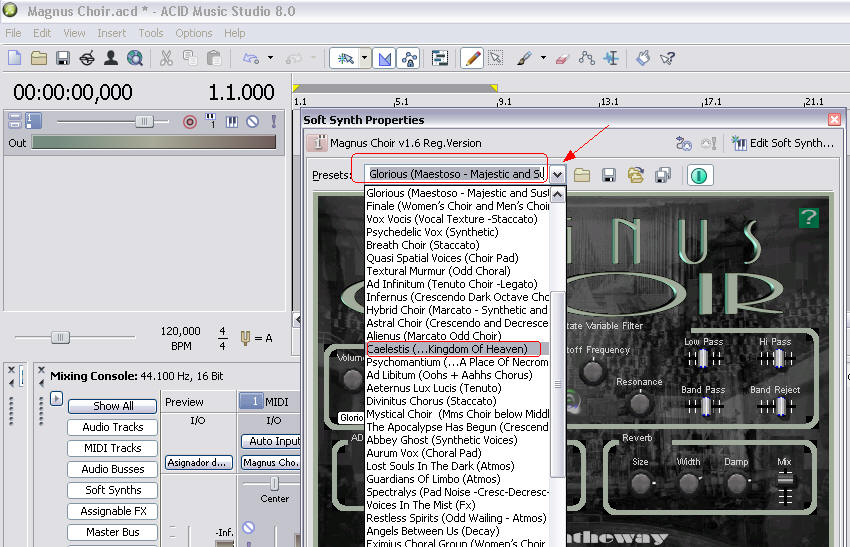 Click to Enlarge Image
8.- Sony ACID Music Studio 8 - MIDI Recording with Magnus Choir VSTi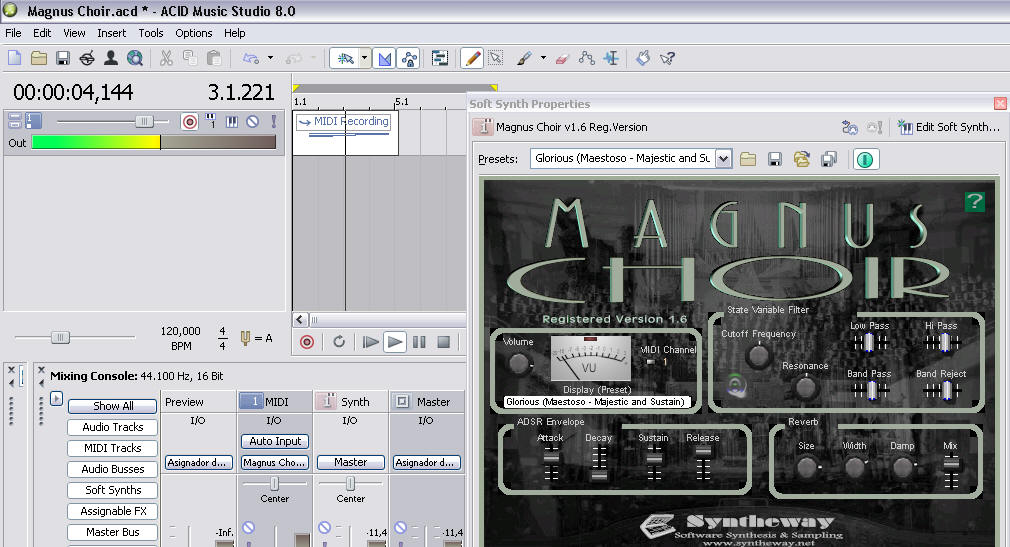 Click to Enlarge Image