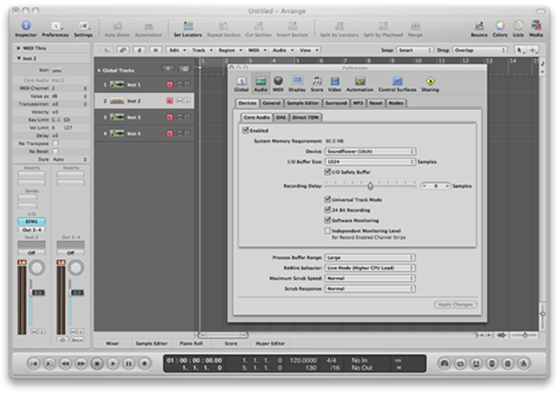 Soundflower Setup on Logic
Soundflower is a Mac OS X (10.2 and later) system extension that allows applications to pass audio to other applications. Soundflower is easy to use, it simply presents itself as an audio device, allowing any audio application to send and receive audio with no other support needed. Soundflower is free, open-source, and runs on Mac Intel and PPC computers.

Example 1: To send audio from iTunes to Max/MSP, open the System Preferences and select Soundflower (2ch) as the device for sound output inside the Sound panel. Then, inside Max/MSP's DSP Status Window, select Core Soundflower (2ch) as the input device. All output of iTunes should now be sent to Max/MSP's adc~ object.
Example 2: How to setup Garage Band, Sound-flower, IAC, VFX
---
Mac Topics That May Interest You:
VST & Audio Units Plug-ins in Mac OS X SM Pro Audio VFX Software for Intel macOS
How to setup Garage Band, Sound-flower, IAC, VFX Apple's Boot Camp
SoundFlower Configuration GarageBand Aggregate Device
IAC (Inter-Application Communication) Bus Audacity VST Enabler
WACVST (Windows-Mac VST) VSTAU Manager (VST to AU Adapter)
How To Use Soundflower How to capture audio with Soundflower
Magnus Choir Audio Unit (AU .component) + VST for Mac OS X Magnus Choir for macOS
Magnus Choir NKI Sample Library for NI Kontakt Magnus Choir Apple Logic EXS24 Samples
How to install Magnus Choir on Mac Is Magnus Choir available for macOS?
---