XT Software energyXT and Syntheway VST Plugins
Setting up Syntheway VST plugins in energyXT
In order to use VST instruments and effects, you will first need to tell energyXT where to search for plugins. To do this choose "File" > "Setup"

Click on each image to enlarge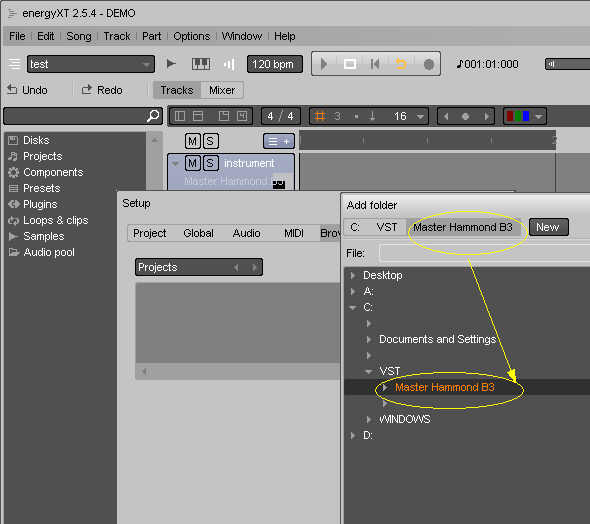 Locating the VST plugins folder
Click the "Add" button. This will open a dialog box where you can select a folder. On Windows, VST plugins usually reside under C:\Program Files\VstPlugins or C:\Program Files\Steinberg\VstPlugins.

When you have located the folder, click OK, then exit the Setup dialog.
Adding VST instruments
Adding VST effects
If you want to add a VST insert or send effect, use the + button next to the "Inserts" or "Sends" section and choose the desired VST effect from the dropdown menu. Note that VST instruments can not be used as insert or send effects.
Universal ASIO Driver For WDM Audio: http://www.asio4all.com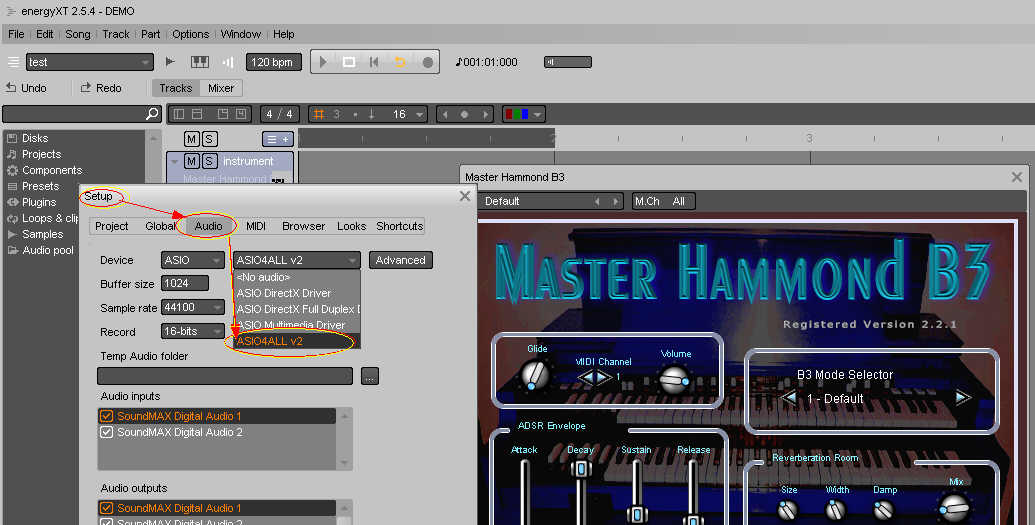 Click on image to enlarge
ASIO4 ALL: Combined 32/64 bit version, supports Win 98SE/ME/2k/XP/MCE/2003/XP64 and Vista/Windows 7 x86/x64
If you haven't the ASIO driver installed on your Windows Vista or 7, please download for free from the following web page at: http://www.asio4all.com/

Once downloaded and installed the ASIO4ALL please go to the following steps:

1) Open energyXT and go to :

2) File => Setup:

3) Audio => Device:

4) Selecting Audio System = "ASIO"

5) ASIO Driver = "ASIO4ALL"

So by clicking on ASIO configuration button, the ASIO panel will show you and you could to change the buffer size as you desired in order to minimize the delay.

---