Ableton Live: Sampler
The MIDI Tab
The MIDI tab's parameters turn Sampler into a dynamic performance instrument. The MIDI controllers Key, Velocity, Release Velocity, Aftertouch, Modulation Wheel, Foot Controller and Pitch Bend can be mapped to two destinations each, with varying degrees of influence. For example, if we set Velocity's Destination A to Loop Length, and its Amount A to 100, high velocities will result in long loop lengths, while low velocities will create shorter ones.

Ableton Sampler (Live Suite only, not Intro or Standard): Sampler is Ableton's advanced sampling instrument. It's extremely versatile, combining traditional sampling features with advanced sound design and synthesis. Sampler can handle any kind of multi-gigabyte instrument library you care to name--including AKAI S1000, S3000, GigaStudio, EXS, SoundFont and (non-encrypted) Kontakt. But the fun really starts when you go in deep and start sound-shaping--Sampler gives you intuitive control over every detail of your sound. Be prepared to create vibrant and complex sounds from even the most basic audio source material.
Importing Third-Party Multisamples
(i.e. Magnus Choir EXS24 Sample Library Set)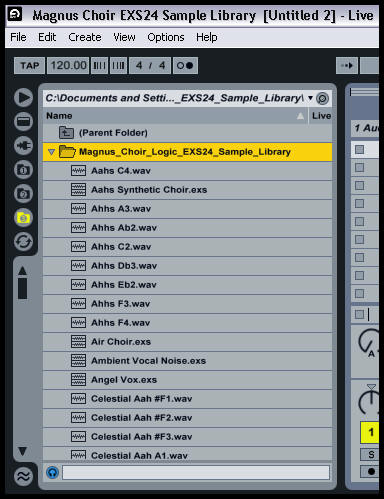 Sampler can use multisamples created by a number of other software and hardware samplers.
To import a third-party multisample, navigate to the file in Live's browser and drag it into a Live Set. This will import it into your User Library.

Importing will create new Sampler presets, which you can find in the browser under User Library/Sampler/Imports.

Note that some multisample files will be converted to Instrument Rack presets that contain several Sampler instances used to emulate the original more accurately.

For all multisample formats except Apple EXS24/GarageBand and Kontakt, Live will import the actual audio data and create new samples. This means the new Sampler presets will work regardless of whether the original multisample file is still available.

To import Apple EXS24/GarageBand and Kontakt multisamples, Live will create new Sampler presets that reference the original WAV or AIF files. This means that removing the original WAV or AIF files will render the new Sampler presets useless. Live's File Manager offers the option to collect and save these external samples.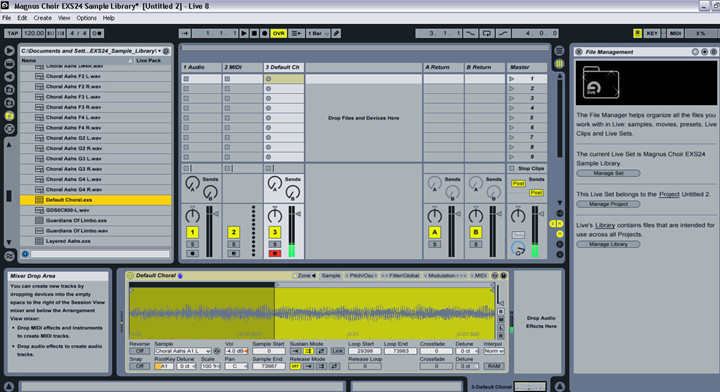 Click Image To Enlarge Live Sampler just imports the exs24 patch file and simply references the samples...
Collecting External Files
To prevent a Live Set from containing broken file references, Live provides the option of collecting (i.e., copying) them into the Set's project folder. This is accomplished via the File Manager:

Choose the Manage Files command from the File menu

Click the Manage Set button

Unfold the triangular-shaped fold button in the External Files section.

Options for Collecting External Files.

Separated by location (other Projects, the User Library, installed by factory Packs, and elsewhere — sample collections from external drives, for example), the File Manager provides:

A file count and the associated disk space used;

A Show button that will list the files in the browser;

A Yes/No toggle for engaging or disengaging collection.

Note: Make sure to confirm your choices by clicking the File Manager's Collect and Save button!

The File menu's Collect All and Save command is a shortcut that collects and saves all external files referenced by the current Set, including those from Live's Core Library or other installed Packs. Note that this can cause a lot of copying, especially if your Live Set uses large multisample collections!

The File Manager's Collect and Save Button.

---
You also might like:
Syntheway EXS24 MkII Sample Libraries
for Apple Logic Pro EXS24 Sampler, GarageBand AUSampler (macOS ), Ableton Live Sampler, Steinberg HALion, MOTU MachFive 3, Presence XT Sampler -PreSonus Studio One 3 Professional- (macOS & Windows) and Image-Line DirectWave Player for Windows.
---
Syntheway KONTAKT Sample Libraries
for Native Instruments KONTAKT, Ableton Sampler, HALion, DirectWave Player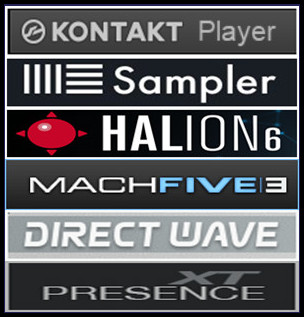 Audio Units™ is a trademark of Apple Inc.
DirectWave Player™ is a trademark of Image-Line