Apple Logic Pro X In Depth...
The vast array of tools and sounds in Logic Pro X are always readily available but never in the way. So you can work as quickly as you want and fine-tune precisely whenever you want.

Single-Window Interface
Logic Pro X is built around an elegant, single-window interface where editors, file browsers, toolbars, and sound controls can be easily brought in and out of view as needed. Add tracks and select Patches. Browse and import audio or loops. Fine-tune your sounds. Record and edit comps for multiple takes. Tell Drummer to play more fills. Input chords and lyrics on your lead sheet. Automate the mix for hundreds of tracks. All from one central location, without managing multiple windows.
Timing
With Logic Pro X, time can be as rigid or fluid as you need it to be. Record without a metronome, then drag beat guides to transients or MIDI notes in the region to conform bars and beats to the timing of the performance. Doing a remix? Drag in the original file, then use Beat Detection to set Logic to its tempo. Alternatively, you can make the audio file conform to the current tempo in Logic.
Varispeed lets you slow down or speed up an entire project, so you can try your song at different tempos or temporarily slow it down long enough to nail a particularly difficult solo.
Plenty of Shortcuts
Logic Pro X provides a number of functional shortcuts designed to keep you moving. The Toolbar places everyday operations like Crop, Bounce, Split, and Join in a convenient, single-click location. An abundance of shortcut menus keeps your mouse travel to a minimum. And because a keystroke is faster than using the mouse, Logic has over a thousand customizable keyboard shortcuts.
Heads-up Tuner
Keeping your guitar or other instruments in tune is easy with the heads-up tuner, which can be conveniently called up using the dedicated button on the Control Bar. The tuner automatically listens to the signal from the currently selected track when Input Monitoring is enabled.
Quick Help
If you're new to Logic or can't quite remember what a particular button is for, the contextual Quick Help is just what you need. It provides hints for whatever part of the interface you're currently hovering over.
Smart Controls
Smart Controls allow you to make changes without getting caught up in the details of navigating the sea of plug-in parameters behind each sound.
Smart Controls are also very powerful. Each control can manipulate one or multiple parameters at a time, with each of those mappings being independently scaled. This means that when you start creating your own Smart Controls, you can fine-tune them to adjust the exact range of the parameter you're targeting. There are multiple themes to choose from, so your amp controls can look like amps, drum machine controls like drum machines, and so on.
Track Stacks
The ability to consolidate multiple related tracks into a single track is just one of the many uses for Track Stacks. Route all the tracks in a Track Stack to a common auxiliary channel for a quick and convenient way to submix tracks. Track Stacks can also contain their own auxiliary channels, so they're perfect for configuring self-contained setups for parallel processing — a multi-amp guitar rig, for example.
Track Stacks also make it easy to create layered and split instruments. Just combine two or more software instrument tracks into a Track Stack. In a similar way, Track Stacks can simplify multi-out and multi-timbral software instrument setups by combining instrument and all aux output tracks together in a single entity.

Dual Channel Strips
The Inspector window features dual channel strips that provide quick access to the channel strip of the current track as well as all other channel strips it is sending signal to.
With Advanced Tools you can choose the level of power and complexity you need. Your menus and preferences will be streamlined, making it easier to focus on the features that matter for your workflow.
Working with Regions
Every piece of audio or MIDI that you record or import into your project is represented in Logic as an editable object called a region. Part of the creative power of Logic is just how easy it is to move, edit, and loop these regions. Each region also has a set of nondestructive playback parameters that further increase the versatility of Logic. MIDI regions have settings for quantize, note length, transposition, and more, while audio regions have crossfade and region gain settings, for example.
Groove Track
Groove Track lets you assign any of your tracks as the Groove Master. You can then select any of the remaining tracks to follow that track's timing. It's as easy as it sounds. If you make changes to the Groove Master track, all the tracks following it update to follow the new groove. And thanks to Flex Time, this feature works well with both MIDI and audio tracks.
Global Changes
It's easy to make major edits like removing sections, aligning a free-form performance to a musical grid, or creating a tempo map that gets you to a cue point on time. Global edit operations such as Snip, Splice, and Repeat apply to all tracks and project data. A special marker type called an Arrangement Marker lets you rearrange sections just by grabbing and rearranging marker objects. And Global Tracks provide a graphical display for viewing and editing global song events like tempo and time signatures.
Logic Pro X gives musicians and composers a powerful set of music-creation and writing tools. Approach the music-making process however you want, and turn your best ideas into your best work — whether you're writing a three-chord hit song, making beats, assembling and reshaping loops, or composing for picture.
Loops
Build songs quickly by choosing from thousands of included royalty-free music loops that automatically conform to the tempo and key of your project. Find instruments more quickly by clicking the buttons at the top of the browser — buttons that designate the genre, mood, and type of sound you're seeking.
Logic Pro X includes a collection of more than 3600 electronic and urban loops, covering everything from Hip Hop to Electro House, Dubstep, Modern R&B, Tech House, Deep House, and Chillwave. You can also choose to download additional loops from the Legacy section of the Download Manager.
You can create your own loops by dragging any audio or MIDI region from your song into the loop browser. It couldn't be easier.
Quick and Simple Setup
Various features in Logic ensure that when inspiration strikes, you can get up and running instantly. When starting from scratch, the New Track Sheet allows you to create and configure multiple audio, instrument, or external MIDI tracks from a single, simple setup window. Alternatively, you can start with every setup detail already in place using Templates. Choose from a set of premade Templates or create your own.

Instrument Plug-ins

Drum Kit Designer
Drum Kit Designer lets you build realistic acoustic drum kits from a wide selection of drum and percussion sounds. Customize the characteristics of each kit piece including tuning, loudness, leakage, dampening, and overheads and room mics.
Retro Synth
A flexible synthesizer that can produce a wide variety of sounds inspired by '70s and '80s synthesizers. It provides four types of synthesizer engines — Analog, FM, Sync, and Wavetable.
Ultrabeat
A drum synth and sequencer with 25 unique drum voices per preset. Each voice is capable of producing pure synth drums, component modeled drums, triggering samples, or hybrids of the three.
Sculpture
A physical modeling synth that emulates the vibration of real physical materials. Ideal for strings, hammered percussion instruments, and even "blown" instruments like flutes, Sculpture lends itself to innovative sound design due to its unconventional method of generating sound.
EXS24
A software sampler capable of playing just about any kind of instrument imaginable, from simple single-sampled, cut-up drum loops to deep-sampled, intricate acoustic instruments with round robin sample switching.
ES2
A three-oscillator subtractive synthesizer with elements of FM and wavetable synthesis to help you generate a variety of sounds. This makes it the perfect choice for creating pads, textures, basses, or synthetic brass.
ES1
Straightforward emulation of a classic analog subtractive synthesizer. ES1 particularly shines for creating bass, pad, and lead Patches.
Vintage Organ
A detailed re-creation of the sound and functionality of a Hammond B3 organ with rotating Leslie cabinet.
Vintage Electric Piano
Delivers the sounds from classic electric pianos made by Fender Rhodes, Wurlitzer, and Hohner, as well as many tasteful variations.
Vintage Clav
Provides the sound of the classic Hohner Clavinet that is most closely linked to funk, but whose sound has been used in countless pop, reggae, and dance productions.
EVOC20
The EVOC20 PS instrument combines a vocoder with a polyphonic synthesizer that is playable in real time. It features two oscillators that offer 50 special waveforms, FM capabilities, and colored noise.
ES E
The ES E is a straightforward subtractive synthesizer ideal for quickly creating warm, rich pad and ensemble sounds.
ES M
The monophonic ES M subtractive synthesizer is especially useful for creating bass sounds that punch through your mix. ES M features an automatic fingered portamento mode, making bass slides easy.
ES P
The ES P emulates classic polyphonic synthesizers of the 1980s. This versatile instrument is capable of producing a huge variety of useful musical sounds. The creation of classic analog synthesizer brass sounds is just one of its many strengths.
MIDI Plug-ins
Arpeggiator
A sophisticated arpeggiator plug-in that offers basic settings for rate, direction, and octave range as well as more elaborate options like note length and velocity randomization. Keyboard remote features allow you to control nearly all Arpeggiator functions with notes on your keyboard, making it a powerful live-performance tool.
Chord Trigger
Makes it possible to trigger memorized chords by playing a single MIDI key.
Modifier
Use to reassign or filter continuous controller data. You can also scale or add to event values.
Modulator
Use to generate continuous controller, aftertouch, and pitch bend messages. Includes a syncable LFO and Delay/Attack/Hold/Release envelope.
Note Repeater
Mimics an audio delay by generating repeating MIDI notes. Repeated notes can transpose or ramp velocity during the decay phase.
Randomizer
Randomizes incoming MIDI notes or controller events in real time.
Scripter
Extensible plug-in that can process or generate MIDI data using standard JavaScript.
Transposer
Transposes incoming MIDI notes in real time and can correct notes to a selected scale.
Velocity Processor
Allows you to compress or expand MIDI velocity events.
External Instruments
Hardware-based synthesizers have a unique appeal and sound and are integral to the creative process for many electronic musicians. With the External Instrument plug-in, you can insert the MIDI and audio routings for external synths into a software instrument channel strip.
Patches
A Patch is a file format that can store all channel strip settings as well as Track Stack and Smart Controls mappings. With Patches, you can re-create every detail of the most complex, multi-channel sound. Patches make it possible to deliver the sophisticated layered and split instruments in the Sound Library.
Logic Pro X turns your Mac into a professional recording studio able to handle any project — from a quick demo to a large-scale commercial project.
Audio Recording
Whether you're recording a solo guitar or a full band, Logic has numerous workflow features to ensure that you capture everything with confidence. Intelligent input-monitoring options and a Low Latency mode, which temporarily disables latency-producing plug-ins, ensure that performers hear what they need to hear. Any errors can be fixed quickly with seamless punch recording features that allow you to drop in manually or at predetermined in and out points.
Take Management
Logic offers a simple, flexible approach to multi-take recording. When you record over existing material, your takes can be automatically stored in a take folder. Expand the take folder at any time to see a graphical display of all your takes for easy auditioning and editing. Move a take folder anywhere in your arrangement and edit it just as you would any other region.
Pro Studio Quality
Logic Pro supports OS X Core Audio, so you can choose the audio interface that best suits your needs. That includes top-of-the-line Thunderbolt solutions like the Apogee Symphony I/O connected via a ThunderBridge interface. It provides up to 64 channels of pristine, 192kHz/24-bit audio with ultra-low-latency performance — without a PCI card.
MIDI Recording
Basic features for recording are the same for MIDI as audio, but additional options are specifically helpful when capturing MIDI data. For example, when laying down a drum groove while cycling the transport, you can have Logic create new tracks on each successive pass. So your kick, snare, and hi-hat parts are on discrete tracks when you're done.
Logic can record MIDI coming from your iPad with Logic Remote or from one or multiple MIDI controller keyboards simultaneously. If you don't have either of those available, call up the Musical Typing keyboard and tap in your music right from your computer's keyboard. Comprehensive Step Input features let you insert MIDI notes without having to perform.
Make those fine changes that turn a great track into a perfect one, or make a dramatic sonic alteration that shifts the entire direction of your composition.
Bounce Regions In Place
When you're creatively processing audio, it can be useful to bake the current effects into the file before taking things further with other creative features like Convert to Sampler Track. The Bounce Regions In Place feature addresses this need. You can render one or more selected regions, with or without the track's effects or automation.
Convert to Sampler Track
In a single step, you can transform any audio in your project into a sampler instrument. Logic will take any region or selection of regions and auto-assign them to notes. Alternatively, Logic can slice the region up by transient and assign each slice to a note.
Drum Replacement
Improve problematic drum tracks with triggered samples in just a few clicks using Drum Replacement. The feature can also be used to double, rather than replace, any drum sound, so get as creative as you want.
Speed Fades
Logic takes the concept of fades and crossfades on an interesting tangent with the Speed Fade option. Applied just like fades, Speed Fades create tape-style speed-up or slow-down effects at the beginning or end of any audio region.
Creative Flexing
While Flex Time is primarily about correcting timing issues with audio recordings, it has features that make it an interesting creative sound design tool as well.
For example, when Flex Time is enabled, you can slice a region into multiple smaller ones based on transients. Turn on Shuffle mode and easily re-order the pieces. Or stretch one piece radically, then toss the result into the EXS24 Sampler.
For pure sound-warping fun, try radically flexing all or portions of a region using either of two creative Flex Time modes — Speed and Tempophone. The results are not always predictable, but that can be a good thing.
Turn Fill Gaps off for the Slicing mode and start tearing off little pieces of an audio file to create glitchy passages in seconds, rather than the hours it might take to build the same effect destructively in a sample editor.
Creative Effect Plug-ins
Amp Designer
Emulates the sound of 25 famous guitar amplifiers and the speaker cabinets used with them. Each preconfigured model combines an amp, a cabinet, and an EQ that re-creates a well-known guitar amplifier sound. Virtual microphones are used to pick up the signal of the emulated amplifier and cabinet.
Bass Amp Designer
Emulates the sound of three famous bass guitar amplifiers and the speaker cabinets used with them. The amp and cabinet can be combined with integrated compression and EQ units to focus the tone.
Pedalboard
Simulates the sound of 35 classic and modern stompbox pedal effects chained together. Stompboxes range from a wide variety of fuzz and distortion, delay, and modulation to pedals you've never heard before, like a spinning Leslie cabinet emulation.
Delay Designer
A flexible multi-tap delay that offers significant sound design potential. You can use it for everything from a basic echo effect to an audio pattern sequencer. You can create complex, evolving, moving rhythms by synchronizing the placement of taps. Delay Designer taps also support "swing" to conform your delay pattern to the groove of your music.
Other Delay Effects
Logic Pro X includes additional types of delay effects ranging from simple Echo to more comprehensive Stereo Delay or even an emulation of retro tape delay machines complete with tape decay, wow, and flutter controls.
Distortion Effects
Logic Pro X provides a wide range of distortion effects that simulate the distortion created by vacuum tubes, transistors, or digital circuits.
Autofilter
A versatile filter effect with several unique features. You can use it to create classic, analog-style synthesizer effects, or as a tool for creative sound design.
EVOC 20 Filterbank
EVOC 20 Filterbank consists of two formant filter banks. Each bank features level faders for up to 20 frequency bands, allowing independent level control of each band. You can control the position of the filter bands with the Formant Shift parameter. You can also crossfade between the two filter banks to create shifting "vocal" effects.
EVOC 20 TrackOscillator
A vocoder with a monophonic pitch-tracking oscillator. The tracking oscillator follows the pitch of a monophonic input signal. If the signal is a sung vocal melody, the individual note pitches are tracked and mirrored, or played, by the synthesis engine.
Fuzz-Wah
The Fuzz-Wah plug-in emulates classic wah effects, combined with compression and fuzz distortion effects. The name wah wah comes from the sound it produces. It has been a popular effect — usually a pedal effect — with electric guitarists since the days of Jimi Hendrix.
Spectral Gate
Spectral Gate is an unusual filter effect that works in the frequency domain to create complex moving filters unlike anything possible with conventional filters.
Modulation Effects
Modulation effects — such as chorus, flanging, and phasing — are used to add motion and depth to your sound. Logic Pro X provides 11 modulation effects and includes a few unusual modulation effects such as Ringshifter and Spreader.
Ringshifter
Ringshifter combines a ring modulator with a frequency shifter effect. The frequency shifter creates a harmonic shift, with resulting sounds ranging from sweet and spacious phasing effects to robotlike timbres.
Spreader
Spreader creates a moving stereo image by altering the pitch of one channel in a stereo signal up and down over time. The effect works best on mono signals.
Pitch Correction
The Pitch Correction plug-ins can transpose or correct the pitch of audio signals. These effects can also be used for creating unison or slightly thickened parts, or even for creating harmony voices.
Pitch Shifter II
Pitch Shifter II provides a simple way to combine a pitch-shifted version of the signal with the original signal.
Vocal Transformer
Vocal Transformer can be used to transpose the pitch of a vocal line to augment or diminish the range of the melody.
Reverb Effects
Logic Pro X delivers several reverb plug-ins ranging from primitive retro-sounding algorithmic reverbs to a high-quality convolution reverb.
Space Designer
Space Designer is a convolution reverb effect that you can use to place your audio signals in exceptionally realistic re-creations of real-world acoustic environments.
Grooveshifter
Grooveshifter allows you to rhythmically vary audio recordings, imparting a swing feel to the input signal. Imagine a guitar solo played in straight eighth or sixteenth notes. Grooveshifter can make this straightforward solo swing.
Advanced audio editing tools and features make it easy to perform broad-stroke edits and sample precise ones in various places within the app.

Quick Swipe Comping
Quick Swipe Comping dramatically streamlines the process of comping tracks. Rather than cutting, moving, and muting regions, all you have to do is click and drag to select the best sections of each take. This creates a perfectly seamless comp, complete with transition-smoothing crossfades. Easily change your comp selections by clicking alternative sections in any take. You can save multiple comps and switch among them to pick the one you like best.
Fades and Crossfades
Fades and crossfades can be applied to the beginning or end of any region. So you can soften the start or ending of a phrase, smooth a transition, or mask the junction between two regions where a difficult edit was made. Apply fades with the Fade Tool or enable the Fade click zone so the tool appears whenever you hover in the upper-left or upper-right corner of an audio region.
Marquee Tool
With the Marquee Tool you can make selections based on transients, define an area for Auto-Punch, set a temporary location to start playback, make a simple cut, and more. Enable the Marquee Tool click zone and you'll have access to this flexible tool whenever you hover over the lower portion of a region.
Audio Track Editor
The Audio Track editor shows a close-up view of all the regions on the selected audio track in the Tracks area. This enables you to trim, split, or otherwise edit the region with sample accuracy while maintaining a bird's-eye view of your project in the main Tracks area. The full range of Flex Time and Flex Pitch features — covered in detail below — are also accessible from this editor.

Editing in the Tracks Area
Most audio edits can be performed with sample-accurate precision right in the Tracks area. Cut, copy, paste, or move regions using a variety of tools and functions. Apply fades. Create comps. Shuffle, spot, align, or loop one or multiple regions with speed and efficiency. Use Track Grouping when edits made to one track need to be applied to others in a related group. This advanced feature is especially critical for multi-mic recording scenarios — live drum recordings, for example — where maintaining phase alignment between tracks is paramount.
Audio File Editor
The Audio File editor puts destructive sample editing capabilities right in Logic. This is the place to permanently fix problem spots like removing pops and clicks or for setting accurate crossover points for looped playback, correcting phase cancellation errors, and more. The Audio File editor is also where you modify the location and number of transient markers in an audio file.
Flex Pitch
Flex Pitch makes it possible to correct pitch, level, and other issues in monophonic audio recordings. While ideally suited for improving vocal tracks, it's effective for all types of melodic recordings. You can transpose notes to explore new melodic ideas or extract them to a MIDI track, where you can double or harmonize your part with any software instrument Patch.
Basic pitch correction can be applied in the Tracks area, where a specialized edit view displays how far a note is from its intended pitch. The complete set of Flex Pitch tools is available in the Audio Track editor, where notes appear in a familiar, Piano Roll-style interface. Out-of-tune notes are offset from perfect pitch, so it's easy to identify them. Control points appear around any note you roll over, giving you instant access to all parameters without forcing you to constantly change tools. Besides tuning and transposition, there are controls for vibrato, pitch drift, formant, and even gain of each individual note.
Flex Time
Flex Time features make it easy to manipulate the timing and tempo of audio recordings. The simplest way to use Flex Time is with the Flex Tool. Just select the tool and start pushing around beats by clicking and dragging anywhere within an audio region. For more precise editing and more visual feedback, enable Flex View. All the detected transients and edit points you've already made will appear. Then you can further edit those points, called Flex Markers, or click anywhere to add and edit as needed.
Flex Time also makes it possible to apply quantize on an audio track using the same workflow used with MIDI tracks. That includes using the Groove Track feature to lock the timing of one track to another.
Flex Modes
There are multiple modes for Flex Time, each utilizing an algorithm that has been optimized for different types of audio. Edits made using any of the modes are rendered in real time, even when you're using the highest-quality setting.
Monophonic
Designed to be used on melodic instruments only playing a single note at a time.
Rhythmic
Rhythmically time stretches the material, looping audio between slices to fill any gaps. It is most suitable for material such as rhythmic guitars, keyboard parts, and loops.
Polyphonic
Time stretches material using a sophisticated process called phase vocoding. It's recommended for all complex polyphonic material such as guitar, piano, and complete mixes.
Slicing
Unique to Logic Pro, Slicing mode corrects timing by shifting the slices around without compressing or expanding the audio. This makes it especially ideal for drum tracks. Logic Pro X is the only application that allows you to make this type of edit without switching to a separate tool that leaves your tracks sliced up into hundreds of little pieces.
Tempophone
Emulates the effect of a historical tape-based time-stretching device known as a tempophone. Results in a mechanical sound with many artifacts similar to those produced with granular synthesis techniques.
Speed
Time stretches material by playing the source material faster or slower, including pitch change.
Back to top
With a rock-solid timing engine, exceptional quantization features, and a wealth of MIDI production tools, Logic Pro X is the gold standard for creating and editing MIDI-based music.
Quantization
Quantizing involves the rhythmic correction of notes to a specific time grid. Any notes not played in time are moved to the nearest position on the grid. Logic offers a sophisticated set of options for applying and adjusting quantization either to a region and its contents or directly to the note events in one of the MIDI editors.
Region-based quantize can be adjusted as you listen to the result, and there are parameters that go beyond the basic snapping of a start of a note to a grid. For example, you can actually quantize the dynamics of notes. This is especially interesting when using the Groove Track feature, as it means you can follow not only the timing of the Groove Master track, but the relative dynamics as well.
Applying quantization to selected notes in any of the MIDI editors is also easy and powerful. The Piano Roll and Score editors also offer Scale Quantize settings that let you snap selected notes to a particular key and scale.
MIDI Draw
MIDI data consists of more than just notes. Modulation, pitch bend, volume, and expression data are all very common. MIDI Draw provides a graphical interface that makes it easy to see and edit this type of data. It can be enabled on a region in the Tracks area or in the Piano Roll editor or Score editor.
Region Inspector
A number of other region-based parameters make the Region inspector an important go-to location for MIDI sequencing in Logic. Smooth out the most jittery performance by adjusting the Dynamics and Velocity settings. Convert a legato performance into a staccato one or vice versa, using Gate Time. You can even push or pull the timing of an entire region with the Delay parameter. Classic features like these make Logic Pro a powerhouse when it comes to composing with MIDI.

Editing
Logic Pro X has multiple MIDI editors for viewing and editing any type of MIDI data. With such a variety, you're able to select an editor that best suits the task at hand. For example, the Piano Roll is probably the best for adjusting note length. If you read music, you can't beat the Score editor, especially for editing multiple tracks at a time. If you're editing the velocities for drum hits, the Step editor is the way to go.
MIDI Transform
Another powerful tool in the MIDI processing arsenal is the MIDI Transform window. It transforms MIDI events — based on conditions, operations, and values you choose — into different types of events or events with different values.
Powerful Mix Console
At the heart of Logic Pro X is a robust mixing console. It supports 255 audio tracks, 255 software instrument tracks, 255 auxiliary channels, and a nearly unlimited number of MIDI tracks. And there are 8 effect sends and 15 audio plug-in slots per channel. So it's more than ready to tackle even the most ambitious projects.
The Mixer also features a long list of innovations that make it simpler and more convenient to operate. For instance, you can filter the types of channels displayed, jump to the destination of a send, or show only the current track and all the channels it's sending a signal to. You can bypass, move, or change a plug-in on a channel insert without using a single modifier key. And when you create a send, an auxiliary channel is dynamically created to receive a signal from it.
Logic Pro X also provides plug-in delay compensation for the entire signal path, so all your tracks play back with perfect sample accuracy.
External Control Surface Support
The Mixer can be externally controlled by Logic Remote for iPad or by a range of hardware controllers, from simple home studio models to high-end professional control surfaces.
Track Groups
This feature lets you control the levels or other parameters of related tracks from any single channel in a group. So when you're mixing multitracked drums, for example, it's easy to trim the level of the whole group while maintaining the relative mix of the kit. You can have up to 32 groups, and a track can be a member of multiple groups.
Automation
All the parameters of the mixing desk, Smart Controls, and any plug-ins you use are integrated into a comprehensive track-based automation system, which allows for full,total-recall mixes.
Using the system is simple and straightforward. No need to select or otherwise configure the parameters you want to automate beforehand. Just activate automation recording for a track, hit Play, and start moving controls. Your every move will be captured. View and edit the automation graphically for single or multiple tracks, including multiple parameters per track. And synchronize the writing and editing of automation for multiple tracks using Track Groups.
Surround Mixing
Logic Pro X offers end-to-end surround capabilities, allowing you to record, edit, and mix projects in surround up to 7.1. You can play, record, and process multi-channel, interleaved audio files. Surround level meters let you monitor volumes for all channels within a single channel strip.
Logic Pro also supports 12 surround formats, making it ideal for those involved in the creation of film and TV soundtracks. You can even bounce your song to a stereo audio file and immediately burn it to CD.
And with support for end-to-end, multi-channel signal routing, you can submix surround tracks or use sends to route audio to surround auxiliary tracks.
Surround Panner Window
The Surround Panner provides a graphical surround field to adjust track output signals to specific speaker positions in a Quad, LCRS, 5.1, 6.1, or 7.1 surround field.
True Surround and Multi-mono
Many of the Studio Instruments and Studio Effects, including Space Designer and Delay Designer, are designed for True Surround. This means that all the processing for surround is handled in the plug-in, to provide particularly rich, immersive effects. And thanks to the built-in multi-mono architecture support, you can use any plug-in with surround, not just True Surround plug-ins.
Production Effect Plug-ins
Compressor
Emulates the sound and response of a professional-level analog, hardware compressor. Provides a choice of five different circuit types.
Channel EQ
A versatile multi-band EQ. It provides eight frequency bands, including low-pass and high-pass filters, low and high shelving filters, and four flexible parametric bands.
Match EQ
You can analyze and store the frequency spectrum of an audio file as a template. Then apply the template to another audio signal so that it matches the spectrum of the original file.
Exciter
Adds harmonic color that is comparable to overdrive and distortion effects. When blended with the source signal, it can add a pleasing sheen to the source material, making high-frequency recordings sound brighter and more detailed.
Speech Enhancer
Improves speech recordings made with your computer's internal microphone, if applicable. It combines denoising, advanced microphone frequency remodeling, and multi-band compression.
SubBass
Generates frequencies below those of the original signal, resulting in artificial bass content.
Gain
Amplifies (or reduces) the signal by a specific decibel amount.
I/O
Enables you to use external audio effects units, similar to using internal effects. It uses a ping feature, which analyzes the latency added by the round trip through the device and then compensates the track automatically.
Mastering Effect Plug-ins
Linear Phase EQ
High-quality EQ with same parameters and layout as Channel EQ. The difference is that phase distortion introduced by conventional EQs is eliminated.
Multipressor
Versatile audio mastering tool that splits the incoming signal into different frequency bands — up to four — and enables you to independently compress each band.
Adaptive Limiter
A versatile tool for controlling the perceived loudness of individual tracks or the main output of a song. It works by rounding and smoothing peaks in the signal, producing an effect similar to an analog amplifier being driven hard.
Limiter
Straightforward limiter that reduces signals exceeding the threshold to ensure that no clipping occurs.
MultiMeter
MultiMeter provides a collection of professional gauge and analysis tools in a single window.


Logic Pro seamlessly integrates sophisticated score editing and music notation into your audio and MIDI production workflow.

Notation
Logic Pro transforms MIDI performances into music notation in real time as you play. The display of the notes is quantized separate from the MIDI events themselves, making it possible to produce perfectly readable notation for a performance that may be less than perfect. Imagine, for example, an eighth note figure that's played with a lot of swing. With display quantize, you can notate as either eighth notes or eighth note triplets. In either case, though, the performance will sound the same.
Score Layout
Logic Pro offers plenty of elaborate layout functions and professional notation printout functions to allow you to quickly deliver anything from a lead sheet to a complete orchestral score. There are projectwide settings for adjusting the overall spacing between notes and default bars per line, as well as tools for overriding those settings on a local, as-needed basis. A Page View mode lets you see exactly how your changes are going to translate to the printed page as you make them.
Score Editor
While Logic has an extensive set of features to support turning your performances into printable scores, the Score editor is incredibly useful as a MIDI editor for anyone who reads music. It's the only editor that allows you to see and edit multiple discrete tracks — stacked horizontally — of data at a time. You can also see more bars of a single part than with any other editor thanks to the Wrapped view option. Enable the Duration Bars option and you can graphically edit the length of notes as well as pitch, just as with the Piano Roll editor.
Staff Styles
Staff Styles let you create and save settings such as clef type, transposition, and other details so that you don't have to re-create the setup work every time. You can save even more time by saving the Staff Style with a Patch, so the correct settings are always used for that sound automatically.
Guitar Notation
Logic Pro includes an abundance of options for notating guitar parts and chords. You can notate parts as guitar tablature, complete with specialized ornaments for notating bends, slides, and other guitar embellishments. There's also the option to input guitar chords with alphanumeric chord symbols or full-fledged Chord Grids. Choose from the Logic Studio Library that features over 4000 chord grids, or create your own.
Score Symbols
The Part box contains a complete collection of score symbols and ornaments, all arranged in groups. You can control which symbols are displayed in the Part box, re-order symbol groups, and open the Part box as a separate, floating window.
Lyric Mode
Logic Pro can help when you need to add lyrics to your song. Notes automatically adjust to the lyrics as you input them using the Adaptive Lyric feature.


Alternatives
Experiment with and manage different versions of your project with the Alternatives feature. Project alternatives let you save "snapshots" of a project in different states, including different arrangements or mixes. Alternatives are conveniently saved as part of the project, and each has its own set of backup versions.
Autosave
Autosave maintains a continuous backup of your work so that you don't lose important changes if something goes wrong. If a project closes unexpectedly, you can choose between the autosaved or last manually saved version of the project.
Advanced Audio Files
When you record, bounce, or export audio files with Logic Pro, tempo events are automatically included. With Flex Time, this means audio imported from other Logic projects can automatically conform to the tempo of the current project, even if there are tempo changes. Project markers come along for the ride too, so the bounced stem you send to a friend can include a marker telling him where and what you'd like him to play.
Track Exchange
Selective Track Import makes it easy to transfer track contents and setups between projects. Pick and choose the components to import, such as the regions, effect plug-ins, sends, and more, on a track-by-track basis. For example, you might like the sound you've dialed in for the vocal track in the current version of the song, but the performance is better in an older version. Selective Track Import lets you bring in the previous performance with just a few clicks. Alternatively, you can import just the mix from one project without changing the audio tracks in the current session.
Logic also provides a flexible set of options for bouncing single or multiple tracks at a time so you can easily share the audio files with other musicians or engineers you're collaborating with. You can choose whether the bounced files render in the effects or existing automation on any of the tracks.
File Interchange
Import and export MIDI Files, Final Cut Pro X XML, and AAF files to facilitate collaborative workflows. You can also export your music score as a MusicXML file if you want to open it in a dedicated music engraving application.
Project File Management
A sophisticated set of asset management options let you gather and store your choice of project files into a single folder, or even the project package itself. This ensures that all the recordings, sample files, and other files used by your project will be available when you take them to a new location. Project file cleanup features help you conserve hard disk space and keep things organized by ridding projects of unused files and outdated backups.
Share to SoundCloud
If you have a SoundCloud account, you can share a project to SoundCloud directly from Logic Pro. You can choose the quality and visibility level for the shared project, set permissions, and also send an email to notify others that the project is available, all right from Logic.
The open architecture of Logic Pro X lets you extend its creative power with a wide range of audio interfaces, control surfaces, and performance hardware. You can also explore more than a thousand third-party instrument and effect Audio Units, and incorporate sounds from applications like Ableton Live and Propellerhead Reason.
Software
Logic Pro X makes it easy to incorporate compatible third-party plug-ins and applications, as well as interchange project files with other applications.
Audio Units
Discover new creative options by adding any of the more than 1000 third-party instrument and effect Audio Units plug-ins.

ReWire
The automated setup process seamlessly incorporates ReWire-compatible applications such as Propellerhead Reason and Ableton Live.
GarageBand
Open GarageBand projects directly in Logic Pro.

MusicXML
Export MIDI performances in the open, industry-standard notation format MusicXML.

Final Cut Pro X XML
Export multitrack projects to Final Cut Pro X with support for Final Cut Pro X compound clips andplug-in automation.

AAF
Export projects using AAF for exchange with Avid Pro Tools and other compatible audio apps.
SoundCloud
Send projects directly to SoundCloud for sharing with fans, friends, or collaborators.
Hardware
Logic Pro X gives you the freedom to choose the hardware that best suits your creative style and production requirements.
Core Audio
Use any Core Audio-compatible audio interface with support for a wide variety of connection protocols including very-low-latency Thunderbolt and PCI, USB, FireWire, or ExpressCard.Logic Pro X supports devices up to 192kHz/24 bit.
Control Surfaces
Enjoy hands-on control when you record or mix by using any of the more than 30 supported control surfaces — from Logic Remote on iPad to high-end console-style controllers. Plug-and-play simplicity lets you start working immediately.

MIDI Controllers
Assigning hardware controls to Smart Controls or plug-in parameters is simple with the easy-to-use Learn command.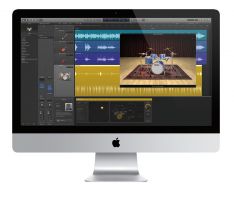 ---