Audio Units, VST and VST3 Plugins for macOS

The Audio Units (.component), VST (.vst) and VST3 (.vst3) formats are distributed via Internet in an Apple Disk Image (.dmg) or ZIP (.zip) files, compatible with macOS Sierra, macOS High Sierra, macOS Mojave, macOS Catalina, macOS Big Sur, macOS Monterey, macOS Ventura. We do not officially support older systems such as PowerPC or deprecated versions of Mac OS X. However our plugins may work, but we cannot guarantee any performance on such old systems. In all cases, always we encourage you to test the free demo version available on the download web page.
These AU / VST/ VST3 plug-ins can be used to process audio by applications such as Logic Pro, GarageBand, Cubase, Ableton Live, REAPER, Studio One Professional, Ardour, MainStage and Digital Performer among others.
Also are available in Logic EXS24 (.exs) and KONTAKT (.nki) Sample Libraries.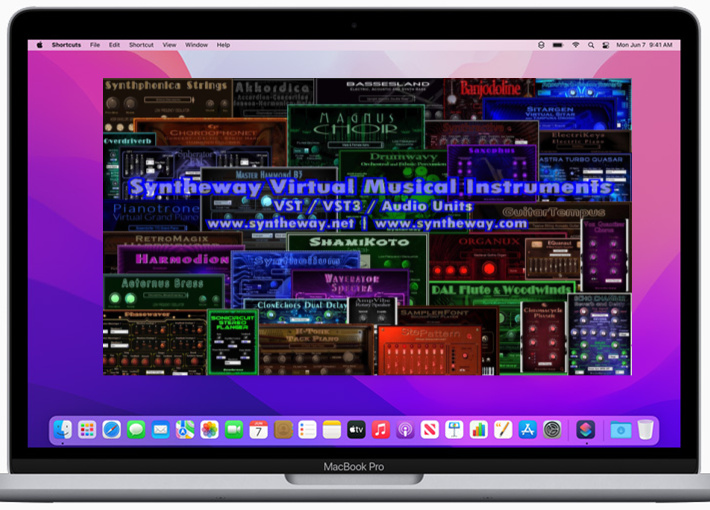 ---
Audio Units, vST and VST3 Plugins for macOS available:
(Click on each AU+VST below for more information, demo versions and shopping online)
---

---

---

---

---

---
Drumwavy Orchestral and Ethnic Percussion

---
Sitargen Virtual Sitar and Tanpura Drone

---

---

---
Pianotrone Virtual Grand Piano

---

---
Chordophonet Virtual Harp & Hammered Dulcimer

---
Banjodoline Virtual Banjo and Mandolin

---
Bassesland Virtual Electric, Acoustic and Synth Bass

---
Akkordica Virtual Accordion, Concertina, Bandoneon, Harmonica and Melodica

---
GuitarTempus Virtual Acoustic, Semi-Ac. & Electric Guitar

---
ShamiKoto Virtual Koto and Shamisen

---
Synthelium Virtual Synthesizer

---
(Tack Piano, Western Saloon Piano and Jangle Honky Tonk)

---
(Soprano, Alto, Tenor and Baritone Saxophones)

---
Synthesizers: Additive, Subtractive, Phase Distortion, FM Frequency Modulation Synthesis and Step Sequencer Audio Units


---
FX: Phaser, Flanger, Chorus, Overdrive, Reverb, Delay, Graphic EQ, Reverb plus Delay Sound Effects Audio Units


---
Instrument List of KONTAKT Sample Libraries (.nki):
(Click on each Sample Library below for more information and shop)


















Instrument List of Apple EXS24 (.exs) Sample Libraries:
(Click on each Sample Library below for more information and shop)



















VST is a trademark of Steinberg Soft- und Hardware GmbH
Audio Units™ is a trademark of Apple Inc.
Logic Pro® and EXS24™ are trademarks of Apple Inc.