The information in this article applies to:
SONAR 8

SONAR 7

SONAR 6

SONAR 5

SONAR Power Studio
What is SONAR x64 Edition?
SONAR x64 Edition is a fully native 64-bit version of SONAR , the definitive audio production environment on the Windows platform.
How will SONAR users benefit from 64-bit technology?
SONAR x64 Edition allows access to 1 terabyte (1024 GB) of RAM, well beyond the current 2 GB limit offered by today's 32-bit applications. This provides users with nearly unlimited potential for working with RAM intensive projects that make extensive use of samplers and numerous audio loops and tracks.
SONAR x64 Edition provides users with the ability to load large sample banks, libraries, and audio clips into RAM, thereby eliminating the latency introduced by disk streaming.
SONAR x64 Edition sees CPU performance benefits from the increased number of internal registers included with x64 processors.
BitBridge Server Configuration: Cakewalk SONAR X1 Preferences VST Settings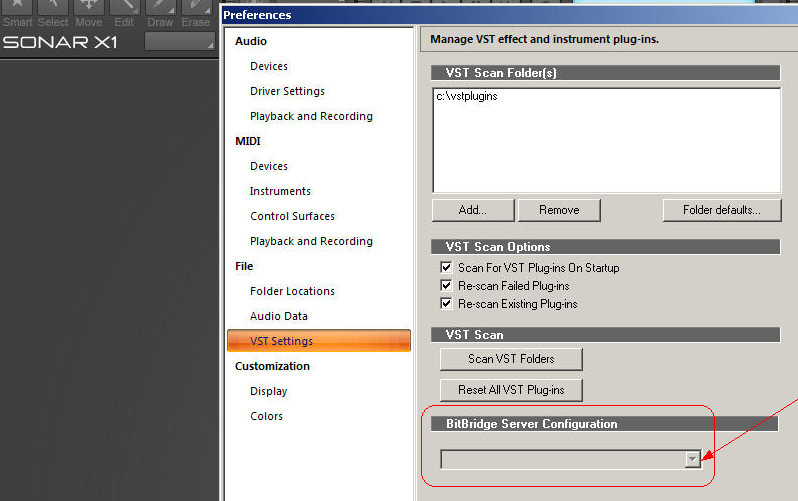 What do I need to get started with SONAR x64 Edition?
A workstation equipped with an Intel processor with EM64™ technology, such as a Xeon™ "Nocona" processor; or an AMD processor from the Athlon 64 processor family. Note: SONAR x64 Edition is not compatible with Itanium™ based systems.

Windows Vista x64 or Windows 7 x64. Retail copies of Windows include both 32 bit and 64 bit versions.

64-bit audio and video drivers (see the next question).
What audio interfaces does SONAR x64 Edition currently support?
SONAR x64 Edition requires 64-bit audio drivers, currently available from the following hardware manufacturers:
Edirol has 64-bit drivers for the following devices: UA-1000, UA-25, UM-880, UM-1 series, PCR series. Visit www.cakewalk.com/x64/edirolx64.asp to download a 64-bit driver for these devices.

E-MU has 64-bit drivers for the E-MU Digital Audio System Series (0404 / 1212M / 1616 / 1616M / 1820 / 1820M). Visit E-MU at preview.creativelabs.com/emu to download 64-bit drivers for these devices.

Creative Labs has a 64-bit driver for the SoundBlaster Live/Audigy/Audigy 2 Series. Visit Creative Labs at preview.creativelabs.com to download a 64-bit driver for these sound cards.

M-Audio offers a complete set of 64-bit beta drivers for their Delta and FireWire product lines. Visit M-Audio at www.m-audio.com/audio64beta/ to download a 64-bit driver for your M-Audio interface.

RME Fireface.

More to come
What if my favorite plug-in manufacturer does not provide 64-bit versions?
This is where SONAR's BitBridge™ comes in. BitBridge enables the use of 32-bit VST effects and instruments in SONAR's 64-bit environment. BitBridge technology extends the viability and use of your favorite VST plug-ins; ensures future compatibility of freeware, even for the most obscure, independently developed shareware plug-ins.
The Technology Preview did not support control surfaces. Does SONAR x64 Edition?
Yes. SONAR x64 Edition supports the following control surfaces:
Mackie Universal.

Red Rover

SAC 2K

Motormix

Generic Surface

Joystick Panner

More Coming!
Please note that if the control surface connects to your system via USB or FireWire it will need 64-bit drivers. This is not the case if it connects via MIDI.
What features are not supported in SONAR x64 Edition at this time?
ReWire support for 32-bit clients like Project 5 V2, Reason 2, and Fruity Loops

32-bit DirectX plug-ins

DreamStation DXi2

VSTi MIDI Output

MPEX time/pitch stretching. A 64-bit library is not available for the MPEX time/pitch stretching algorithm, so this feature is not supported in SONAR x64. SONAR's internal time/pitch stretching will be used instead. You can also any AudioSnap features, such as Slip-Stretching as an alternative.

Microsoft has yet to provide x64 codecs for the following formats, so they are not yet supported:

Apple has yet to release QuickTime for Windows x64, so QuickTime import/export is not yet supported. Note: MPG 1 movie files can be imported.