DAL Flute & Woodwinds KONTAKT Sample Library
---
for Native Instruments KONTAKT, Ableton Sampler, HALion, MachFive, DirectWave Player and Presence XT Sampler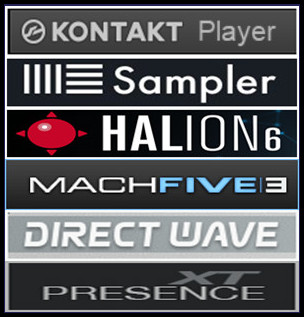 ---
DAL Flute Woodwinds KONTAKT is a Sample Library in .nki format

with an orchestral and ethnic woodwind instrument collection, consisting of flute, oboe, clarinet, bassoon, piccolo, cor anglais (English horn), recorder, paixiao, dizi bangdi, shakuhachi, shinobue, quena, siku, nai, ney, ocarina as well as a small orchestra ensemble and woodwind section.

Available for Native Instruments KONTAKT full version v2.0 or above (Windows and macOS). The Free KONTAKT Player only will load this Library for 15 minutes in demo mode. Also is compatible with Ableton Sampler (Live Suite only, not Intro or Standard),

Presence XT Sampler (PreSonus Studio One 3 Professional), Steinberg HALion and MOTU MachFive on Windows and macOS as well as in Image-Line DirectWave Player for Windows.

It has been meticulously tuned and adjusted and particular care has been

taken in the reproduction of the original realism of DAL Flute & Woodwinds.
For existing registered users of any DAL Flute format, you can order

using a special Crossgrade order page located here.
Promo: Upgrade to DAL Flute & Woodwinds v4.0 with a reasonable low-fee from formerly 'DAL Flute' versions

---
KONTAKT Instrument List (.nki + .wav)
#

List of Preset Sounds / Demo ↓

1

Flute Legato

2

Flute Non Vibrato

3

Flute Sustain Vibrato

4

Flute Staccato

5

Flute Staccatissimo

6

Flute Pizzicato (Slap Tongue)

7

Flute Trills

8

Oboe

9

Piccolo

10

Bassoon

11

Clarinet

12

Cor Anglais (English Horn)

13

Recorder (English Flute)

14

Shakuhachi (Japanese Flute)

15

Shinobue (Japanese Flute)

16

Paixiao (Chinese Panpipe)

17

Dizi Bangdi (Chinese Flute)

18

Andean Quena (South America)

19

Andean Siku (South America)

20

Siku Panpipe (Edge-Blown)

21

Bamboo Panpipe (Edge-Blown)

22

Nai (Romanian Pan Flute)

23

Ney (Ancient Persian Flute)

24

Ocarina (Sweet Potato)

25

Ocarina Vibrato

26

Orchestral Woodwinds
Flute, Oboe, Cor Anglais / French Horn, Bassoon and Contrabassoon

27

Woodwind Section
(Oboe, Cor Anglais / French Horn, Bassoon and Contrabassoon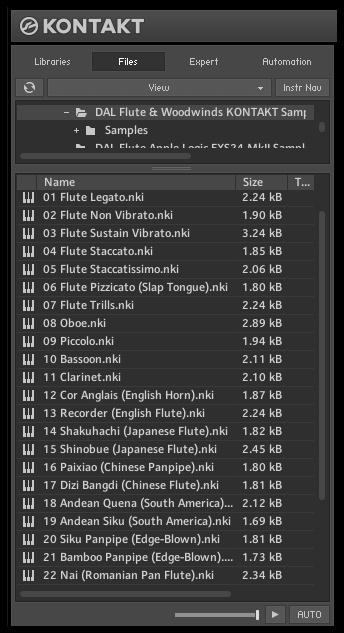 ---

Buy DAL Flute NKI for Kontakt online through PayPal

Secure PayPal Payment Services
All payments are handled securely online through PayPal. You'll be protected with PayPal's Buyer Protection so you know your order will be safe and secure.

Please check to make sure you are using a valid PayPal email address before ordering, so after your purchase and usually in less than 24 hours, we will send you an email containing a protected link for your downloadable sample library or authentication credentials to login and download it.
Kontakt™ is a trademark of Native Instruments GmbH

Live™ and Sampler™ are trademarks of

Ableton AG

HALion™ is a trademark of Steinberg Soft- und Hardware GmbH

DirectWave Player™ is a trademark of Image-Line

Mac®, macOS®, OS X® are a trademark of Apple Inc., registered in the U.S. and other countries.

Windows 7™, Windows 8™, Windows 10™ are either a registered trademark or a trademark of Microsoft Corporation in the United States and/or other countries.