Drumwavy Orchestral and Ethnic Percussion KONTAKT Sample Library
---
for Native Instruments KONTAKT, Ableton Sampler, HALion, MachFive, DirectWave Player and Presence XT Sampler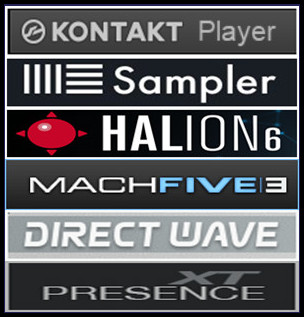 ---
Drumwavy KONTAKT Sample Library is a collection of percussion instruments designed for creating orchestral and ethnic percussion, with a wide array of African, Arabic, Asian, Brazilian, German, Indian, Irish, Japanese, Latin American, Spanish, Tibetan and Turkish percussion.
Available for Native Instruments KONTAKT full version v2.0 or above (Windows and macOS). The Free KONTAKT Player only will load this Library for 15 minutes in demo mode. Also is compatible with Ableton Sampler (Live Suite only, not Intro or Standard), Presence XT Sampler (PreSonus Studio One 3 Professional), Steinberg HALion and MOTU MachFive on Windows and macOS as well as in Image-Line DirectWave Player for Windows.

It has been meticulously tuned and adjusted and particular care has been taken in the reproduction of the original realism of Drumwavy.

For existing registered users of any Drumwavy (formerly Syntheway Percussion Kit) format, you can order

using a special Crossgrade order page located here.
Promo: Upgrade to Drumwavy v2 with a reasonable low-fee from formerly Percussion Kit versions

---
KONTAKT Instrument List (.nki + .wav)
#

List of Preset Sounds / Demo ↓

1

Acoustic Drum Set

2

Orchestral Percussion Set

(Snare/Triple Roll, Bass Drum, Timpani, Tam Tam, Cymbal, Wood Block, Triangle)

3

Orchestral Celesta (Celeste)

4

Orchestral Cymbal (Crash-Ride-Roll)

5

Orchestral Cymbal (Reverse Crash)

6

Orchestral Mallet Crotales (C6-C8 Set)

7

Orchestral Mallet Glockenspiel

8

Orchestral Mallet Marimba

9

Orchestral Mallet Vibraphone

10

Orchestral Mallet Xylophone

11

Orchestral Percussion Hit 1 (Maj)

12

Orchestral Percussion Hit 2 (Min)

13

Orchestral Percussion Hit 3 (Dim)

14

Orchestral Sleigh Bells

15

Orchestral Tambourine

16

Orchestral Timpani

17

Orchestral Triangle (C1-B3)

18

Orchestral Tubular Bells (Chimes)

19

Orchestral Whip (Slapstick)

20

Orchestral Wood Block

21

African Percussion Set

(Djembe, Talking Drum, Shekere)

22

African Bendir (C4-B5)

23

African Djembe Goblet Drum

24

African Slit Log Drum

25

Afro-Cuban Bata Drum

26

Afro-Latin American Cabasa

27

Afro-Latin American Shekere

28

Afro-South American Caxixi

29

Arabic Riq Frame Drum

30

Asian Gong

31

Asian Temple Block

32

Brazilian Cuica Drum (C2-B2)

33

Brazilian Surdo Drum Muted (C2-B3)

34

Brazilian Surdo Drum Open (C2-B3)

35

German Almglocken (Cowbells)

36

Indian Dholak

37

Indian Dukki Tarang

38

Indian Ghatam

39

Indian Khanjira (Ganjira)

40

Indian Khol (Mrdanga)

41

Indian Morsing (Mukharshank)

42

Indian Naqqara (Nagara)

43

Indian Pakhawaj (Pakhavaj, Mridang)

44

Indian Tabla

45

Indian Udukai (Uduku)

46

Irish Bodhran Frame Drum

47

Japanese Taiko Drum

48

Latin American Percussion Set

(Bongo, Conga, Timbales, Loops, Fills, Cowbell, Guiro, Clave, Shekere)

49

Latin American Bongo

50

Latin American Conga (Tumbadora)

51

Latin American Rumba Shaker (Maraca)

52

Latin American Shaker

53

Latin American Timbales (Pailas)

54

Latin American Vibraslap

55

Spanish Castanets

56

Tibetan Singing Bowl (Resting Bell)

57

Turkish Darbuka (Goblet Drum)

58

Misc. Carillon Bells

59

Misc. Glass Harp

60

Misc. Music Box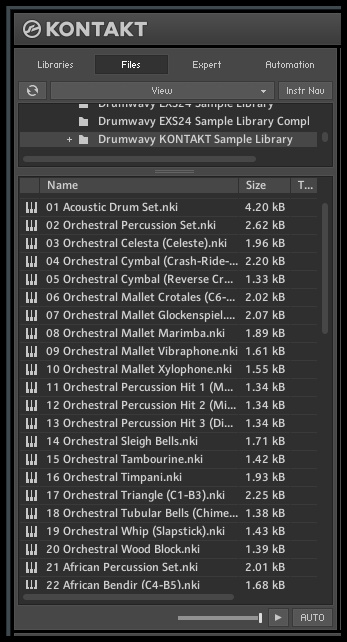 ---

Buy Drumwavy Orchestral and Ethnic Percussion KONTAKT (.nki) online through PayPal

Secure PayPal Payment Services
All payments are handled securely online through PayPal. You'll be protected with PayPal's Buyer Protection so you know your order will be safe and secure.

Please check to make sure you are using a valid PayPal email address before ordering, so after your purchase and usually in less than 24 hours, we will send you an email containing a protected link for your downloadable sample library or authentication credentials to login and download it.

Price: USD 49,90 via PayPal

To Buy, click "Add to Cart" button:
This Product does not include a "Kontakt" player.

A full version of Native Instruments Kontakt 2.0 or above is required for unlimited functionality.

Please be aware that the free Kontakt Player can only load this instrument in demo mode for 15 minutes.
Kontakt™ is a trademark of Native Instruments GmbH

Live™ and Sampler™ are trademarks of

Ableton AG

HALion™ is a trademark of Steinberg Soft- und Hardware GmbH

DirectWave Player™ is a trademark of Image-Line
Mac®, macOS®, OS X® are a trademark of Apple Inc., registered in the U.S. and other countries.
Windows 7™, Windows 8™, Windows 10™ are either a registered trademark or a trademark of Microsoft Corporation in the United States and/or other countries.