Managing Magnus Choir Presets
in FL Studio 12
Watch Video demonstration Online
---
.
How to manage Magnus Choir presets in FL Studio 12
.
In FL Studio you can to change the sounds by clicking the "plug-in" icon on top VST container and selecting the sound from window box.

Once click the icon, it will display you all presets available.

When the list is displayed, you can select the preset and it automatically change the sound to play.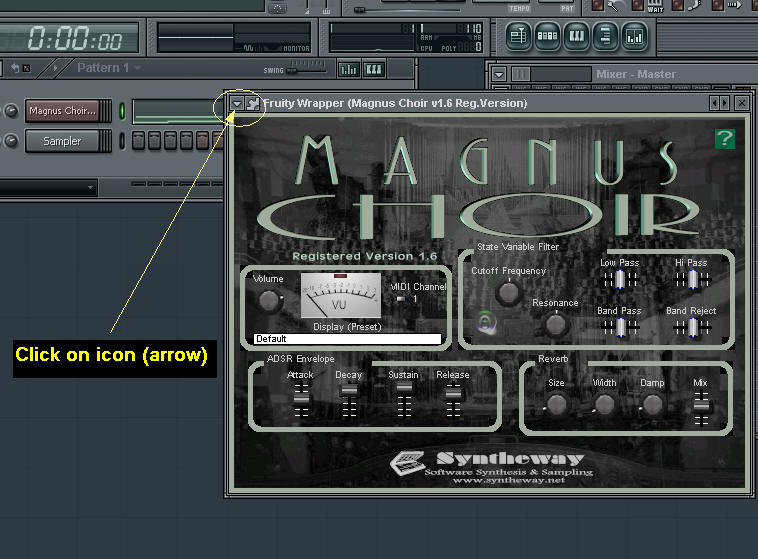 Also there are two file formats for storing presets: an FXP file stores a single preset, while an FXB file stores a whole bank of presets
MAGNUS CHOIR PRESETS
01.- Abbey Ghost
02.- Ad Infinitum Formant
03.- Ad Libitum Chorale
04.- Aeternus Lux Lucis
05.- Alchemical Signals
06.- Angelic Vox
07.- Angels Between Us
08.- Apocalyptic Chamber
09.- Astral Singers
10.- Aurum Vox Pad
11.- Birds Sonic Sweep
12.- Caelestis Kingdom
13.- Celestial Choir
14.- Choral Ensemble
15.- Choralis Pad
16.- Cinematic Padilius
17.- Cosmic Odyssey Voice
18.- Cryogenic Dimension
19.- Dark Cantus
20.- Digital Voice
21.- Dystopian Chorus
22.- Elves Land
23.- Enchanted Goblins
24.- Ethereal Voices
25.- Guardians Of Limbo
26.- Lost Souls In The Dark
27.- Male & Female Aahs
28.- Morph Dreams
29.- Morphed Vowels
30.- Mystical Vowels
31.- Nebula Dark Atmos
32.- Necromancer Summons
33.- Neo Choir
34.- Octave Aahs Choir
35.- Octave Vox Pad
36.- Oniric Sequences
37.- Oohs Choir
38.- Psychedelic Vox
39.- Psychomanteum Reso
40.- Quasi Spatial Voices
41.- Relaxing Paradise
42.- Restless Spirits
43.- Sanctus Holy Chant
44.- Sonorous Skies
45.- SopranVox C4-C6
46.- Spatiotemporal Atmos
47.- Spectral Hell
48.- Synthetic Chorus
49.- Synthesized Vocals
50.- Underworld Embryos
51.- Vinyl Chorus
52.- Voices In The Mist
53.- Vowelled Soundscape
54.- Vox Vocis Texture
---

VST is a trademark of Steinberg Soft- und Hardware GmbH
FL Studio is a registered trademark of Image Line Software
---