WACVST (Windows-Mac VST)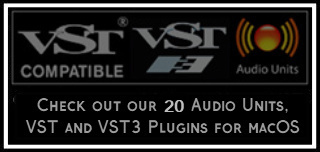 VST to AU Adapter.
---
If you are a Mac user and wish to try the Syntheway plug-ins, here you have a free open source application called wacvst, a tool that will wrap Windows native VSTs (dll PC) for use with Intel macOS based VST hosts. Alternatively also you can visit our gallery of Syntheway's products, which we have compiled for Macintosh users in Universal Binary format, so they are compatible and runs natively on Intel-
manufactured IA-32 (Intel Architecture, 32-bit) or Intel 64-based Macintosh computers: AU Audio Units (.component) and VST (.vst) Sample Libraries for macOS.
Please be aware that we haven't tested the application, just we have information from their developer.
To determine whether the software meets your requirements prior to purchase, we encourage you to test the wacvst with our free Syntheway demo files.
The image below has been reduced in size. Click on it to see the full version.
Download: wacvst-bin-0.3.zip
Info at: http://sourceforge.net/projects/wacvst/
---
Related VST (dll) To Mac (Adapters / Hosts / Mac Software):
Syntheway NKI Sample Libraries for Native Instruments Kontakt (Windows / Apple Mac OS X)
Syntheway EXS24 MkII Sample Libraries for Apple Logic (EXS24 EXSP24 Samplers Mac OS X)
Syntheway Sampler & Libraries: Audio Unit (AU .component) + VST (.vst) for Mac OS X
WACVST (Windows-Mac VST) VSTAU Manager Audacity VST Enabler
Magnus Choir Audio Unit (AU .component) + VST for Mac OS X Magnus Choir for Mac OS X
Magnus Choir NKI Sample Library for NI Kontakt Magnus Choir Apple Logic EXS24 Samples
SM Pro Audio VFX Software for Intel Mac OS X (To Play Syntheway VST Plug-ins)
Custom Search

VST is a trademark of Steinberg Soft- und Hardware GmbH
Mac™ is a trademark of Apple Inc., registered in the U.S. and other countries.
Mac OS X is a trademark of Apple Inc.
Audio Units™ is a trademark of Apple Inc.