MIDI Products
MIDI Hardware & Software
MIDI makes a lot of things possible, and there are many types of MIDI product available to help you create, control, or even just listen to music. MIDI products tend to fall into one of two categories:
MIDI controlling devices (things that send MIDI messages)

MIDI-controllable sound-generating devices (things that play music via MIDI)
Some MIDI Products -- such as the typical keyboard synthesizer shown on the right -- are both a controller and sound generator.

If you would like to make music with MIDI, we recommend you visit a MIDI specialist to determine the right products for you. Here are just some of the products that you may want to consider.
Keyboards and modules: Practically every musical keyboard sold today has MIDI connections... from the $100 portables to $300,000 digital grand pianos.
Wind controllers, MIDI guitars & drums etc.:


You don't have to be a keyboard (piano) player to benefit from MIDI. There are specially made MIDI wind controllers, MIDI guitars, MIDI drums, even MIDI accordions. Since MIDI was primarily designed for 'keyboard players', these devices are often referred to as 'alternate MIDI controllers.'
(Interested in MIDI Guitar? Check out Craig Anderton's High-Tech Guitar forum over at Harmony Central.)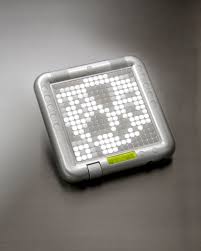 Non-Traditional Controllers: Another category of "alternate MIDI controllers" are those that don't mirror traditional musical instruments. There are many people who feel that traditional musical instruments are too hard to learn, or limit their expression to "traditional" forms.
MIDI controllers come in a large variety of shapes and formats, and thanks to motion and impact sensors just about anything can be made to send MIDI data.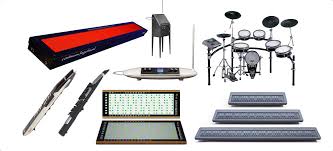 We've compiled some examples of non-traditional controllers here, and some additional and unusual uses of MIDI here.
Control Surfaces: This type of 'alternate MIDI controller' includes unique products designed to trigger or modify notes on a sound-engine, as well as products to remotely control the settings of software or other hardware using knobs, sliders, buttons, wheels, and joysticks that send MIDI Messages.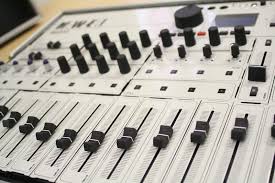 Lighting Controllers: Many professional stage lighting controllers allow external control of scene and program changes via MIDI.
Computers & Interfaces: Practically every computer made today comes with the ability to play MIDI files, and can connect to other MIDI gear with a PC-to-MIDI interface (connector) available as an accessory. Professionals and amateurs alike can compose, arrange, and record original music, or use the computer to learn about music or how to play an instrument.
Software applications: There are hundreds if not thousands of software applications that involve MIDI, either actively or passively. Included are MIDI Sequencers (now commonly combined with audio recording into Digital Audio Workstations or 'DAWs'.), auto accompaniment applications, notation programs, music teaching software, games, DJ/remix environments, and more.
Software sounds: 'Softsynths' or 'software musical instruments' started
to appear in the late 1990s. With the development of plug-in architectures and virtual studio technology (e.g. VST, AU, etc.) there has been an explosion of sound-generating software products in both 'new' and 'vintage' styles.
Games: Computer and video game music, now generally referred to as game audio, began in the early days of MIDI and to some extent, its history exemplifies both the creativity and the limitations of ' MIDI music.'
Today, game music delivers startling levels of 'reality'. Both recorded music and MIDI, are at the heart of most game audio developers' systems.
Interactivity, however, is a current hot topic in the game industry and MIDI's inherent flexibility coupled with microscopic file sizes, makes it a natural choice for a new generation of both hardware and software that puts control of game music in the hands of the players.
MOBILE PHONES AND MORE:
---
Although the trend in recent years has been towards 'real' (compressed) audio versions of popular hits, MIDI ring-tones are still very popular for their ability to be changed in any way imaginable, and many phones (especially "smart phones") support downloadable games that benefit from the compact size of MIDI data.
---
MIDI is a trademark of MIDI Manufacturers Association Incorporated.
About MIDI - Making Music with MIDI - MIDI Controllers - MIDI Products - MIDI Glossary - MIDI Polyphonic Expression (MPE)
---