Interfaces, Keyboards and Controllers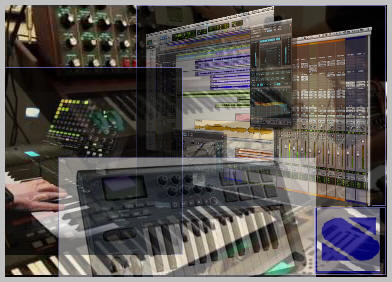 If you want to play software instruments (like Magnus Choir or some other Synth ) on your computer using a keyboard, just like a 'proper instrument', you need either a keyboard with a USB connection or a so-called MIDI interface, which connects any keyboard with a MIDI out. A pure MIDI keyboard does not produce any sound itself but sends information about which keys were struck when and how hard they were pressed. The software then produces the appropriate sound (i.e. USB interfaces: Edirol UM-1S, M-Audio Midisport 2x2 and MOTU FastLane).

Interfaces for Mac and PC:
MIDI interfaces are available for personal computers in various designs:
As PCI cards (for desktop PCs or Macs), which are simply installed in a free slot and are ready to use once the accompanying software is installed)
As external MIDI interfaces that can be connected, depending on the model, via parallel or serial ports (both for PC only) or USB (Mac and PC). External interfaces have the advantages that the computer must not be opened and that they can also be used with other computers.
The manufacturers of MIDI interfaces are Edirol, Emagic, M-Audio, MOTU, and Steinberg.
Inputs and Outputs
You should pay attention to the number of in- and outputs. One in and one out should do for simple applications at first. But if you also want to use a MIDI controller box (for example with knobs for controlling assignable software parameters) or many external MIDI devices, you will need several in- and outputs.
MIDI Keyboards:
The selection of MIDI keyboards is relatively large. You must decide whether you want a weighted keyboard (produces a piano-like feeling on the keys) or an unweighted. For playing synthesizers (and for non-pianists), the unweighted keys should be fine. The MIDI keyboard, however, should definitely be velocity-sensitive (when the keys are pressed harder the sound is louder).
MIDI keyboards with built-in knobs
MIDI controllers are also very practical. With these knobs you can operate faders and other parameters in the software instruments without having to use the mouse. Such MIDI controllers are also available separately; see the section below called 'MIDI Controller Boxes'.
USB MIDI keyboards:
As an alternative to MIDI keyboards you can also purchase USB keyboards. These are recommended if you own neither a keyboard nor a MIDI interface and have no desire to use external MIDI devices like hardware synthesizers and samplers. (i.e. Edirol PCR-30 and M-Audio KeyStation (USB and MIDI plus faders and knobs)
MIDI Controller Boxes:
These boxes with knobs or faders are most useful in live applications, since they enable 'remote control' of the software instrument's parameters. Please note that there are 2 different basic types: models which send "absolute values" and ones using "relative/incremental values". (such as the "Doepfer Pocket Dial" or "Novation Remote 25" - sending relative values).
Where to find out more...
The following companies offer products and information that will be useful to anyone with an interest in Making Music with MIDI:
Yamaha Corp US | Korg USA | Cakewalk | Edirol
BitHeadz | MadWaves | PreSonus | Steinberg | E-Mu Systems
Keyboard Magazine | Electronic Musician
---
MIDI is a trademark of MIDI Manufacturers Association Incorporated.
About MIDI - Making Music with MIDI - MIDI Controllers - MIDI Products - MIDI Glossary - MIDI Polyphonic Expression (MPE)
---